Clara Lemlich.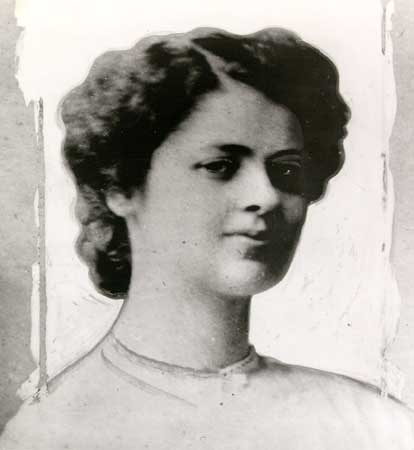 ILGWU Archives (5780Pbox18ff3a), Kheel Center, Cornell University.
On November 22, 1909, a twenty-three-year-old Jewish immigrant garment worker from Russia named Clara Lemlich sat in the Great Hall at Cooper Union. She listened with hundreds of fellow shirtwaist workers as Samuel Gompers and others debated whether their union, the International Ladies' Garment Workers' Union, should call a general strike. Suddenly she raced to the platform and, speaking in Yiddish, she said: "I am a working girl, one of those striking against intolerable conditions. I am tired of listening to speakers who talk in generalities. What we are here for is to decide whether or not to strike. I offer a resolution that a general strike be declared--now!"

The crowd went wild. When the chairman finally restored order, he asked for someone to second the motion. The entire assemblage shouted its response.

For thirteen weeks that winter, 20,000 strikers, most of them young Jewish and Italian women, walked the picket line and beat off employer thugs. The settlement improved working conditions, though the union was only recognized in some shops.

Just five months after the shirtwaist makers strike was settled, 60,000 cloakmakers, most of them men, struck. The employers turned to jurist Louis Brandeis, who helped reach a settlement that became known as the Protocol of Peace. This landmark agreement required employers to give preference to union members if they were equally qualified for a job, abolished home work, and inside subcontracting, established a six-day work-week of fifty-four hours, and created the machinery for arbitrating disputes and grievances.

These strikes of 1909 and 1910 were closely followed by a tragedy that should have been prevented.