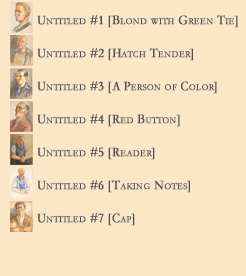 Pele deLappe came home to San Francisco in the midst of the 1934 maritime strike. She was 18, back from art school in New York, and she walked the picket line, raised money for the strikers, drew cartoons for the union newsletter, and got arrested.

After the strike, in 1935, she painted a series of eight portraits of longshore workers, seven of them available for view here. They were intended to be used in a mural, though the mural was never completed.

The subjects were rank-and-file union members just recently back to work after the '34 strike. "The call went out to the hiring hall," according to deLappe, "and they came to my studio on Washington and Montgomery. It took me about a day to do each portrait." The men came in after work or during their lunch hour to sit for the portraits. Some of them were seamen, some longshoremen, and although we do not know their names, deLappe commented in later years: "My hope is that people who see the pictures might recognize them as relatives."

The portraits, recently restored and framed for the first time by the union, now hang in the International Longshore and Warehouse Union headquarters, testimony to the union's commitment to display art by and about workers.

Photographs of artwork are by Richard Bermack,2004.