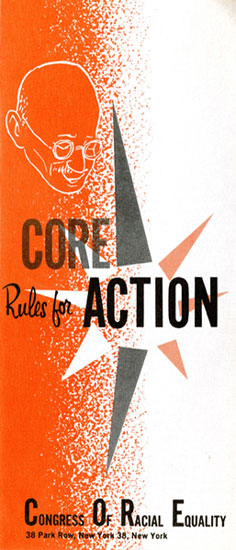 Private collection of Marvin Rich.
CORE Rules for Action
This six page foldout pamphlet from 1960 evokes roots of the Congress of Racial Equality with the sketch of Mahatma Gandhi on the cover. It sets forth three aspects of CORE's rules for nonviolent, direct action:
the power of active goodwill and non-retaliation,
the power of public opinion against an injustice, and
the power of refusing to be a party to injustice, as illustrated by the boycott and the strike.
Citing Gandhi's reliance on non-violence in the struggle for independence, the text continues:

Sincere individuals all over the world have used this tactic to overcome seemingly overwhelming odds. When used by a dedicated group trained to understanding and personal discipline, it can change the social order.

CORE activists around the country were taking similar actions, and all of them adhered to the principle of non-violence, which became one of CORE's major principles. Although they weren't fully aware of it at the time, they were laying the groundwork for the civil rights movement of the 1960s.