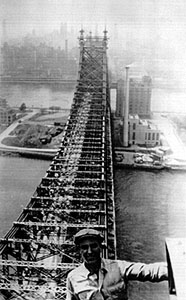 A culture of solidarity has defined the lives of many working New Yorkers over the course of the 20th century. Strong at some moments, such as the pre-World War I era and the 1930s and 1940s, at other times this culture was fragmented or under siege. The culture drew (and draws) its strength from shared goals and a sense of common cause: centered around the labor movement, it has also encompassed many other organizations and people. Participants went beyond the American dream of individualism and saw hope in working toward the welfare of many. Shared experiences, values and assumptions were the underpinnings of this culture, drawn from traditions from around the world and uniting immigrants from all corners of the world.
These photographs, stories and songs tell a small part of the story of the culture of solidarity. They were selected from hundreds of thousands, to evoke workers' lives, their chutzpah, tenacity, creativity and fire. Most of the photographs were taken by working people, or for their publications. The photographs help us see, and the oral histories help us hear, this history from the perspective of the participants.
A fuller version of this story can be found in our book, Ordinary People, Extraordinary Lives: A Pictorial History of Working People in New York City (NYU Press, 2000), though even there we present only the tip of the iceberg. Both exhibit and book are part of a long term ongoing project at the Robert F. Wagner Labor Archives to document, preserve and disseminate the history of working people in New York. We welcome contributions to this project: please contact us at the Robert F. Wagner Labor Archives, New York University, 70 Washington Square South, 10th Floor, New York, New York 10012.
– Debra E. Berhnardt and Rachel Bernstein