Robeson developed a commitment to being a "people's artist" during his time in Britain in the late 1930s. Returning to the U.S., he used his extraordinary voice to support the strikes and demonstrations of a number of unions which shared his left political perspective. He became an honorary member of a number of CIO unions, starting with the National Maritime Union in 1941.
The NMU made a name for itself demanding equal rights. It had a significant black membership (including the secretary-treasurer, Ferdinand Smith, originally from Jamaica). Robeson addressed a very enthusiastic audience at the 1941 convention, singing ten songs, some of them requests (we don't know which).
"Water Boy" was one of Robeson's signature songs, described by his son Paul Robeson, Jr., as one for which he had "an intuitive affinity." This recording features esteemed black folk artists Sonny Terry (harmonica) and Brownie McGhee (guitar).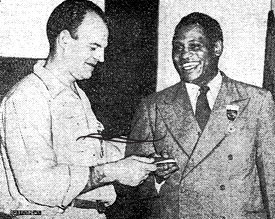 Robeson addressing the July 1941 NMU Convention in Cleveland, Ohio:
…brothers: I needn't say how happy I am to be here, because I am here. I don't come as a singer of importance or anything like that. I come today because I feel very close to the maritime unions…

I know the whole background of your Union, and I would like you to know that among the colored people of this country your Union stands among the foremost for giving complete equality and for the advancement of the colored people…
The printed convention proceedings describe Robeson's reception: "The delegates rose to their feet and thunderously applauded and cheered Mr. Robeson. It was some time before the demonstration ceased."