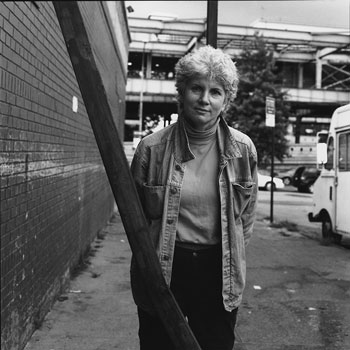 Elaine Ward saw a journeyman's card with the plumber's union as a "ticket to ride," a passport to a trade that would enable her to earn a good living and to travel at the same time. Journeymen are skilled craftsmen who have completed extensive apprenticeships, and Ward began the plumbing apprenticeship program in 1985 - waiting on line for nine hours to get the application. During the five years she apprenticed and studied she was usually the only woman in the shop classes and on the job site.
As women entered the union one by one, each devised her own strategies for survival. Ward had a particularly difficult time getting work from her union, and ended up taking to the road to find work.

After arriving in Erie, Pennsylvania, on Amtrak with her sleeping bag and work boots, she headed for the 24-hour coffeehouse.

A guy came in and sat down next to me and I started talking to him. He was going to the same place I was, so I got a ride. Then, the first fifteen minutes I was there, I found out more about what was going on in the country in the construction business than I had the whole time I was in Local 2 (NYC). I soon discovered that there was this little network…when you go on a job and there are travelers or boomers, as they're called, and this cuts across trade lines, but in this case it was plumbers and pipe fitters. We're in the same International. These are people from all over the country who've been traveling around. The information that they have, you can't get in a book…I learned that I could get jobs on my own. I still had to be dispatched out of the union hall, but I could make direct contact with the business agents around the country.


"…As a traveler, I am an outsider…but by my presence I create an impression that will forever be associated with my home local and my home town. And because I am female, I have the added responsibility of representing my gender. When I leave that job, that union hall, and that town, I also leave forever an image of a woman construction worker, and for the union brothers, a union sister.