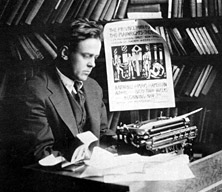 John Silas Reed was an American journalist, poet and activist best known as the author of Ten Days That Shook the World, his account of the Bolshevik Revolution, and as the subject of the Hollywood movie Reds, starring Warren Beatty.
He was born in Portland, Oregon, in 1887 into a well-to-do family. He was educated privately at the Portland Academy and later at the Morrisville School in New Jersey. In 1906 he began his studies at Harvard where he was very active in student activities but was not a great scholar. He graduated in 1910 and traveled to England, France and Spain before settling in New York's Greenwich Village. A family friend, Lincoln Steffens, secured him a job at the American Magazine. He also started to contribute poetry and other short pieces to Collier's, The Forum, and The Century Magazine.
In 1913 he joined the staff of THE MASSES and contributed over 50 articles, reviews and short pieces to the periodical. At about the same time he met Mabel Dodge, a wealthy New York socialite, who home was a salon for many of the city's art and literary stars. They soon began a relationship.
Reed's support for the common working man led to his arrest in Paterson, New Jersey for speaking out for the striking silk workers. In order to raise funds for the striking silk workers, he, Mabel, and the artist John Sloan decided to organize the Paterson Strike Pageant at Madison Square Garden.
In December of 1913, The Metropolitan sent Reed to Mexico to cover Pancho Villa and his army. He stayed for four months and his reports were published as Insurgent Mexico. War had broken out in Europe and Reed and Boardman Robinson left for Eastern Europe to report on the conditions there. They traveled throughout Greece, Bulgaria, Romania, Serbia, and Russia sending back a series of articles and sketches which became The War in Eastern Europe, published in 1916. This trip was not without difficulties, as they were arrested as spies in Romania and Russia.
After his return to the US, Reed visited his family in Portland. While there he met Louise Bryant, who joined him in New York City in January of 1916. Reed and Bryant spent the summer of 1916 in Provincetown, Massachusetts where they were joined by Eugene O'Neill and other artists and writers. By October John Reed and Louise Bryant had purchased a small cottage at 106 Mt Airy Road in Croton-on-Hudson to be near other friends from THE MASSES. In November they were married in Peekskill, and not long afterwards Reed was hospitalized and had one of his kidneys removed.
John Reed had supported the re-election of President Woodrow Wilson in 1916, expecting that Wilson would respect his promise and keep the US out of the war in Europe. He was outraged when Wilson called for a declaration of war on April 2, 1917. He proclaimed "This is not my war, and I will not support it. This is not my war and I will have nothing to do with it." His recent operation left him ineligible to be drafted for war service.
Reed and Bryant left for Russia in August of 1917. They were going as journalists to see for themselves the situation there. They were present when the Bolsheviks, headed by Vladimir Lenin, took the Winter Palace in Petrograd, the seat of the Kerensky government, an event which initiated the Bolshevik Revolution. John Reed was an enthusiastic supporter of the new revolutionary socialist government. He met Leon Trotsky and was introduced to Lenin, and went to work for the new People's Commissariat for Foreign Affairs, translating decrees and news of the actions of the government into English.
Louise left Russia in January of 1918. John did not reach New York City until April 28th, at which time he was arrested for sedition—an offence related to an article he wrote for THE MASSES entitled "Knit a Straight Jacket for Your Soldier Boy". Reed was tried with other MASSES writers and artists but they were all released when the trial ended in a hung jury.
Both Reed and Bryant were fiercely grilled by a US Senate committee exploring Bolshevik propaganda activities in the US. Reed had become radicalized by that point and served as the editor of The New York Communist, the weekly paper supported by the left wing of the Socialist Party. In August of 1919 he was expelled from the National Socialist Convention.
In October he fled the US using a forged passport and working his way to Bergen, Norway as a stoker. He jumped ship and made his way to Moscow by train. He traveled all around the Moscow area observing the results of the revolution. During the winter of 1920 he tried to return to the US but was arrested in Helsinki, Finland and jailed. He was convicted of smuggling and detained in a Finnish prison until June. His health and mind had deteriorated during his time of incarceration. He returned to Moscow where he attended the second Comintern Congress. He was not pleased with the heavy handed tactics shown by those in control of this meeting. He was ordered to attend the Congress of the Peoples of the East that was to be held in Baku. By this time Louise Bryant had arrived in Russia and he wanted to be reunited with her. He was not permitted to delay his journey to welcome her and he had to travel by train to Baku, an area rife with typhus. He returned to Moscow on September 15th and was reunited with his wife. Reed planned to return to the United States but fell ill on September 25th. He had contracted spotted typhus and because of the Allied blockade there was no medicine. John Reed died on October 17, 1920. After an official hero's funeral he was buried at the Kremlin Wall Necropolis.