Bright red cloth with gold lettering, trim, and designs top and bottom. The lettering continues: Org 23 April 1913 N.Y. A detailed central logo continues the theme of conciliation, as it shows two hands shaking, one showing at the wrist a black man's suit and white shirt, the other a blue lady's coat.
This banner may have been made as a replacement for an earlier one, or during a period when the local was strapped for cash, for it was made to be framed, of thin synthetic material, with no backing, and no sleeve at the top by which it could be hung on a rod.
The great wave of immigration around the turn of the twentieth century brought many thousands of Italian men and women into the garment industry, and both the Amalgamated and the ILGWU had strong Italian locals throughout much of the twentieth century.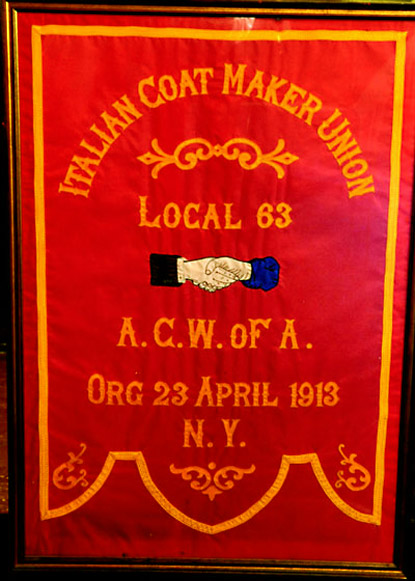 synthetic material
47″ x 35″
Kheel Center, Cornell University
---