Pants Pressers Union Local 40, ACWA
This banner, like others, could be tattered due to extensive use, or perhaps due to careless handling and storage. The bright but very tattered red silk background has light gold lettering, dark gold trim and fringe. There are two central images, one of two hands shaking in agreement above a pre-electric iron. Organized May 1907. Note the lack of any logo of affiliation with the AFL or CIO.
The specificity of a long lived organization representing only workers who pressed pants once again evokes the heyday of the garment industry in New York City. An interesting clue to the past of this local can be found in the Jewish Communal Register of New York city, 1917–1918 (reproduced in googlebooks). There we find a listing for Pants Pressers' Local No. 40 (A.C.W.A.), with a Secretary named H. Novodvor (63 Ludlow St), meetings every Wednesday at 66 Essex Street, and a membership of 1100. The same volume lists dozens of other garment locals.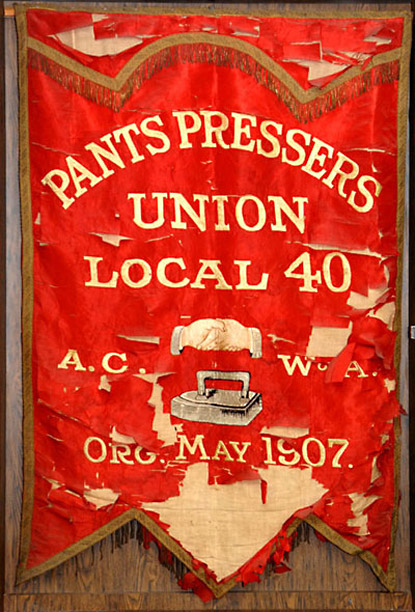 silk and cotton
55″ x 39″
circa 1930s
Kheel Center, Cornell University
---
---