One of the earliest extant banners from the garment industry, this banner represents the Journeymen Tailors Protective and Benevolent Union, "probably the oldest continuing local in the Amalgamated… first organized as a separate local in 1806," according to a 1940 union history. The history goes on to cite newspaper descriptions of the Journeymen Tailors marching at the funeral of General Montgomery in 1818, marching at a parade celebrating the opening of the Erie Canal in 1825, and leading labor unions in the parade on Independence Day, 1827.
The very tattered banner is of blue silk with gold lettering and a realistic gold eagle holding a shield with red and white stripes and a blue field with stars, with laurel both at the bottom of the shield and in the eagle's beak. The lettering reads: New York Journeymen Tailors Protective and Benevolent Association Organized 1862.
The shield and the eagle evoke strong themes of patriotism and of protection, referring to the union's efforts to insure members against illness, accident and death, and the immigrants' assertion of their new identity as proud American citizens.
This banner hung for decades at an ACTWU Joint Board meeting room on 15th Street in Manhattan, together with a majority of the banners in this exhibit. A few years ago the banners were donated to the Kheel Center at Cornell University, which houses the archives of the Amalgamated and the ILGWU, together with other labor union materials.
The center's initial efforts to protect this very tattered and frail object revealed the following inscription embroidered on the back of the banner: Presented by the Ladies of the New York Journeymen Tailors Protective and Benevolent Union August 7, 1887. The back of the banner is decorated with oak branches with acorns, and fern fronds. A complete stabilization and conservation of the banner awaits future funding.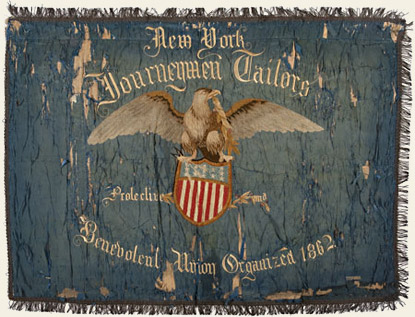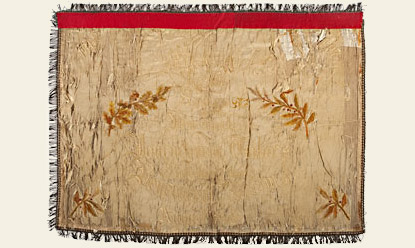 silk, cotton, and metal wound fringe
60″ x 79″
1887
Kheel Center, Cornell University
---