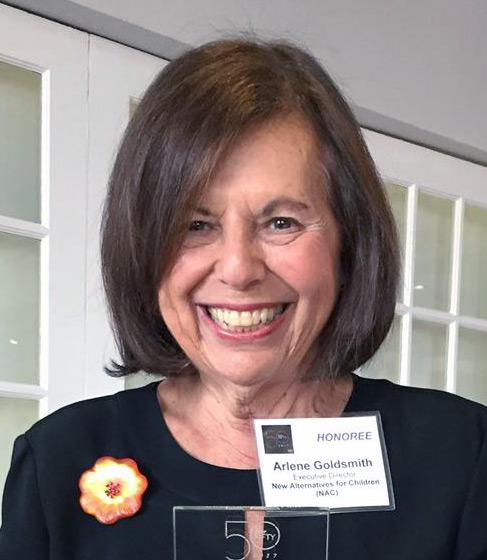 ‣

Introduction

By Elena Engel, Clara Lemlich's grandniece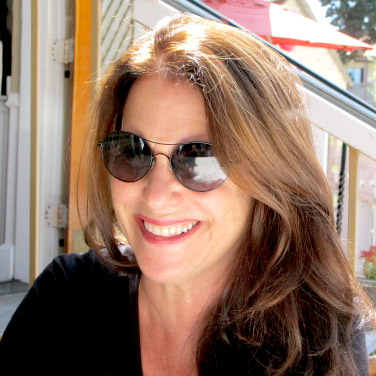 There are so many outstanding qualities my friend Arlene Goldsmith shares in common with Clara Lemlich, making her the perfect recipient of this annual award honoring my beloved Great Aunt.
Arlene's long outstanding career in the field of Social Work and her 38 years as the founding director and proud Executive Director for the New York nonprofit NEW ALTERNATIVES FOR CHILDREN (NAC) overflows with accomplishment.
But for now, I want to imagine with you what Clara herself would have said about Arlene. Might they have even been friends once upon a time in history?
I like to think they would have definitely admired one another. I think Clara would have given Arlene big kudos for her determination to make the world a better place especially for those who because of their circumstances in life survival is difficult. Life in itself is challenging but being born with physical and financial limitations is certainly an even larger mountain to climb.
Clara would have said about Arlene that she simply does not stop fundraising, campaigning, influencing, organizing, cheerleading for her cause just like herself. That Arlene's voice is strong and true. In fact, I'm pretty certain Clara would have tried hard to recruit Arlene to her own fights ( Arlene, the softer personality of the two but still a mighty fire lit!)
Clara would say she admires Arlene for teaching by action and example. That her anecdotes about the children and families she strives to help along with the amazing accomplishments of her husband Mark, their beloved children and grandchildren are always moving and memorable. When I was 8 years old sitting on Clara's lap mesmerized by her tales of traveling to all the world's greatest capitals little did I know she was nurturing in me seeds of my own wanderlust and a sense of justice it would take years to express. Perhaps these two women share an ancient tradition in common, one that uses the power of story to inspire empathy, hope, and courage under difficult circumstances.
And last but certainly not least, I fondly remember my "fun" Great Aunt Clara as we baked Rugelach together and conspired mischievously to hide most of it from the family
"Just in case they ate it up too fast."
Years ago, I was fortunate to have met another "fun" woman named Arlene Goldsmith on a vacation to the Galapagos islands—a proud and devoted matriarch surrounded by her adoring grandchildren splashing in the ocean, screaming along with them in delight.
A woman like Clara with a larger than life heart and a purpose to match… as important as any human being would ever hope to be.
‣

Acceptance

I am honored to be among the women receiving the Clara Lemlich award for 2020, which I accept with great humility. I am in awe of Clara's accomplishments and proud to be associated with her name.

In 1982 I was hired to create an agency whose purpose was to move children out of sterile hospitals to live in the community with families. New Alternatives for Children (NAC) provides innovative high-quality services in support of families caring for medically complex and/or behaviorally challenged children who have experienced severe trauma, and live in poverty. NAC builds on family strengths, and assists family members in achieving their potential. Our outcomes for success have been exceptional for the thousands of children who have crossed our doors since 1985.

As NAC's founding Executive Director, I have promoted the idea that a civil society is one in which we give a voice to all people. Children learn to function and contribute in society, but society is often not civil to those with disabilities. Many are ignored, oppressed or disenfranchised. They are often treated as "less than" or invisible. NAC's children have extraordinary minds, but struggle daily with limited physical functioning. They contend with mistaken assumptions by others that physical limitations imply intellectual disability. This can lead to a systemic failure to set expectations and provide needed support services, discouraging youth from pursuing higher education or employment. I firmly believe that it is our responsibility as a civil society to make visible those who are invisible, and recognize the value of all in society. NAC does this by acknowledging that each member of our society has the potential – given the right circumstances – to make a unique contribution to the greater good.

I have been a stalwart advocate for our children, and have taught them to advocate in their schools, health care facilities, and with government partners. I have not taken NO for my efforts to give our children what we want for all children. They deserve a home, a family, and respect for their inherent abilities. I continually remind them that their history is not their destiny.
‣

Bio

New Alternatives for Children has been under the direction of Arlene Goldsmith, LCSW, PhD since its inception in 1982. Dr. Goldsmith has led NAC from an initial staff of 5 employees to a team now of almost 250. Her expertise, professionalism, and dedication set the tone for the agency, which now attracts and retains an exceptional and professional staff.

Before joining NAC, Goldsmith spent 25 years as a practitioner in the field of human services. She has worked with the Council on Social Work Education, evaluating accreditation for professional social work programs throughout the U.S., and at the Metropolitan Placement Unit of the Office of Mental Retardation and Developmental Disabilities, working on the deinstitutionalization of children with developmental disabilities. She has also worked in child welfare agencies as both a practitioner and supervisor, and has served as a faculty member of Hunter/Lehman College, teaching and counseling students and teachers at their educational clinic.

Goldsmith holds a Master of Social Work degree from Columbia University School of Social Work and a Doctor of Social Work from Fordham University Graduate School of Social Service, with a specialization in Child Welfare. Dr. Goldsmith is recognized as an expert in child welfare policy, and is the author of "Those Children", a case study and evaluation that offers human service professionals guidance in working with inner-city children.

Dr. Goldsmith is a friend and a mentor to almost every child who walks through NAC's doors. Her compassion and uncompromising leadership have enabled thousands of medically complex children and their siblings to live with a family of their own – either birth or adoptive – and lead a better quality of life. Many of the first children NAC helped to leave the hospital are now attending and graduating college, working in the community and succeeding in areas never thought possible. Dr. Goldsmith believes that every child, regardless of their physical ability, deserve the same opportunities as all children.

As a result of her work at NAC, and "in recognition of her pioneering efforts to give hospital-bound, chronically ill children a chance to live in a loving family," Dr. Arlene Goldsmith was named a Robert Wood Johnson Community Health Leader in 1994. Dr. Goldsmith was one of ten leaders around the country to receive this $100,000 award for NAC, which recognizes "leaders who are overcoming seemingly insurmountable obstacles to provide care to the millions slipping through the cracks." In January 1998, Arlene Goldsmith received a prestigious Lewis Hine Award from the National Child Labor Committee, presented in honor of outstanding service on behalf of children and youth. The Robin Hood Foundation named Dr. Goldsmith as the recipient of their Hero's Award in December 1998 and presented NAC with the accompanying $25,000 check. Most recently in 2009, Dr. Goldsmith was one of three respected members of the social work profession inducted into the Columbia University School of Social Work Alumni Association Hall of Fame. The Hall of Fame honors distinguished Columbia University School of Social Work alumni/ae who have made outstanding contributions to the theory and/or practice of social work and who, by their example, have added distinction to the social work profession. In 2010, Dr. Goldsmith was presented with the Foster Care Leadership Award by the Rowell Foster Children's Positive Plan and the Annie E. Casey Foundation for her steadfast commitment to children placed in foster care.