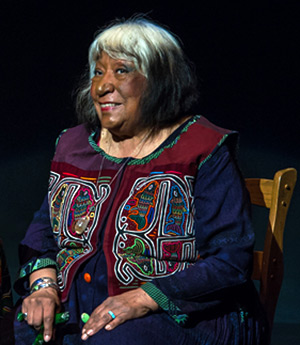 ‣

Introduction

By Muriel Miguel, sister and fellow Spiderwoman Theater founder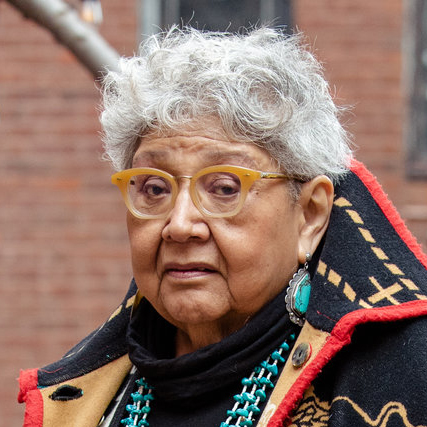 Gloria is my big sister. My sisters are 11 and 13 years older than me—Lisa was the oldest—and they were mothers to me when I was growing up. They took me to theater and really made sure that I was exposed to all kinds of culture.
When I started Spiderwoman, it was important for me to work with my sisters, with my family, so I asked them to join the group. We tell stories—storytelling and storyweaving is how we create our productions. Spiderwoman Theater is the oldest, continually running, Native women's theater company in North America. We are great storytellers.
When we started in 1976, we were not a Native group, we were everything, mothers and grandmothers; straight and gay; Native, black and white. Our first show was Women in Violence and we talked about the violence in women's lives. We took Women in Violence to the Nancy Festival in France and was the first feminist theater group to be in this festival. We were really out there. At one point, we were away from the US for six months and when we came home, the group agreed to split up. Out of that came the group, Split Britches. We are still friends. The three of us stayed as Spiderwoman and we became a Native-only group, working with Native performers and artists. We work in New York City and travel to Native communities in the US, Canada, New Zealand and Australia, doing workshops and presenting our work. Our latest show is Misdemeanor Dream and Gloria is performing in it at 93. She is really amazing.
‣

Acceptance

I am very grateful to be among the many wonderful women who have had the honor of receiving the Lemlich Award.

I believe I am the first Native American to receive this award. I am a Kuna and Rappahannock Elder. I call myself a CITY INDIAN. I was born on my reservation called Brooklyn.

My mother was born in Brooklyn and was living there with her family. My grandmother was a Rappahannock from Virginia. My father, a Kuna from Central America, was an able-bodied seaman on a four masted schooner—he very proudly used to say. He traveled all over. He docked in Brooklyn, and some other seamen on his boat said, We know some other Indian families in Brooklyn. We're going there. Do you want to come with us? And he said, Sure. They were all Kuna. So they walked down Court Street to my mother's house. My mother was sitting at the window, and she looked out and saw these men walking down the steps, and she said, I'm going to marry that one. And she did. He fell in love with her.

My sisters and I founded the first feminist indigenous theater movement. We created the Spiderwoman Theater. In Native myth, Spiderwoman is a creative Goddess. We have travelled and performed for audiences around the world. We told stories about women and dramatized issues vital to them. Violence against women was an important theme in our theater work. We focused on the issue ahead of the current attention to the problem.

Storytelling is an important Native tradition and through our theater we have made an important contribution to protect and preserve this tradition and shine a light on indigenous women through the arts.
‣

Bio

Gloria Miguel, a Kuna/Rappahannock elder, grew up in in Brooklyn, performing in circus sideshows with her family, singing and doing drama in church. She studied drama wherever she was, including at Oberlin, where she moved with her husband when he became a professor there. In the mid-70s, Gloria and her sister Elizabeth (Lisa Mayo) joined up with their sister Muriel in forming Spiderwoman Theater. The group's first production, Women in Violence was a success, as were subsequent productions, including a send-up of the sideshows of her youth. Spiderwoman has been delighting and educating audiences with plays about women's issues and indigenous matters ever since, both in North America and overseas.

Miguel toured the United States in Grandma, a one-woman show, toured Canada as Pelaija Patchnose in the original Native Earth production The Rez Sisters and performed in Native Earth's Son of Ayash in Toronto. She performed as Coyote/Ritalinc in Jessica, a Northern Lights Production in Edmonton, Canada and was nominated for a Sterling Award for best-supporting actress.

As a drama consultant she helped the Minnesota Native American AIDS Task Force develop a play on AIDS. She was a drama teacher at the Eastern District YMCA in Brooklyn, NY and a visiting professor at Brandon University in Canada. She performed at the Mending the Sacred Hoop Domestic Violence Conference in Flagstaff, Arizona. She taught drama workshops at the Native American Writers and Artist Forum in Red Mesa, Grey Hills, and Rough Rock, Navajo Nation Reservation, and taught at the High School there. She performed in Beijing, China at the 4th World Woman's Conference. She and Lisa Mayo received a Rockefeller Grant and other funding to create Nis Bundor: Daughters from the Stars.

She has created a one-woman show A Kuna Grows in Brooklyn. She has an honorary degree from Miami University in Oxford, OH and is a lifetime member of the Lee Strasberg Institute. In March 2006, she appeared in the Spanish film Caotica Ana in Madrid, Spain.

She has presented her new one-woman show Something Old, Something New, Something Borrowed, Something Blue at The Museum of the American Indian in Washington, DC, at La MaMa E.T.C. as part of the Elder Project, and throughout the country. She has most recently performed in Chocolate Woman Dreams the Milky Way in Vancouver and Toronto.