‣

Introduction

By Sasha Matthews, Cartoonist, Activist, Shakespeare Fanatic, 11th Grader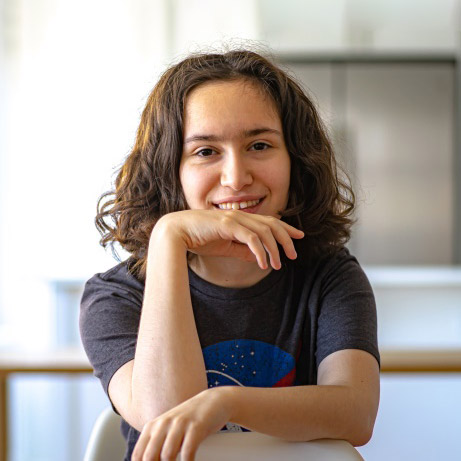 Barbara Dane always knew she was a singer. As a girl growing up in Detroit, she took singing lessons, learning how to push her voice out from the diaphragm so it could reach the back of a big auditorium. There was only one problem. Barbara knew she wanted to sing, but she didn't know why. She found her reason at a racist motel in Detroit. The discriminatory motel threw Barbara and her friends out. So they started a picket line, and showed up every Saturday to protest. It was on this picket line that Barbara raised her voice, using the techniques she had learned for singing in auditoriums to sing so loudly that all the protestors on the picket could hear her. That was when she knew why she wanted to sing: to help fight injustice in the world.
Since then, Barbara has sung and protested all over the globe, all while raising her three kids. She has performed with such artists as Louis Armstrong, Lightnin' Hopkins, Pete Seeger, Phil Ochs, Joan Baez, and Bob Dylan, and she is the singer of such favorites as "I Hate the Capitalist System," "Lonesome Jailhouse Blues," and "Deportees." Unity, she says, is the most important thing in activism. After all, no movement is completed by people working alone. In a protest, everyone pitches in, doing what they can to help. Someone brings coffee, someone passes out fliers, and someone sings, energizing protestors and bringing them together. "If your movement doesn't have any songs, there's something wrong with your movement," she told me.
The first lesson of activism can be learned from what Barbara says is the most essential song: "Solidarity Forever," whose lyrics she recited to me by heart:
"When the union's inspiration through the workers' blood shall run
There can be no power greater anywhere beneath the sun
Yet what force on earth is weaker than the feeble strength of one
But the union makes us strong"
When I spoke to her over Zoom last week, Barbara told me there's a difference between a singer-activist, and an activist singer. Barbara is the latter. She doesn't simply sing songs about injustice—she's also out there on the picket line, doing the work to fix it.
‣

Acceptance

Eternal gratitude to Clara Lemlich for her courage and persistence in fighting for social justice. Much appreciation to LaborArts and the Remember the Triangle Fire coalition for their stewardship of her legacy, keeping her example alive for future generations of social activists.

A big part of our job as artists is to help people see through the fog of our mis-education, our corrupt media, the insistent commercial persuasions, the false promises of self-serving politicians, the white supremacy brainwashing, and even our own fantasies of either dystopia or utopia. Truth and reality is what we are after. Don't be satisfied with less!

Yes, at age 94 I have become that old auntie full of advice. Here is a bit of the most important:
Find out what really makes your motor hum and dig into it.
Don't try to go it alone. Find the joy in working with others who share the same goals.
Don't give up as soon as you discover it isn't easy. The harder it gets, the richer you are becoming, in ways you will understand in time.
Don't harbor emotions like fear, shame, self-doubt, guilt or revenge. They are all a big waste of time and energy.
Fear alone may keep you from some of the best experiences you could ever have had in life. The best way to survive any challenge is to jump right in.
Base your opinions on fact. If you tell someone "This is the road to Haversham" make sure they don't end up in Williamsburg.
Be humble. Remember everything you know was learned from someone else.
Above all, don't forget to sing! All alone, with your partner, in the crowd or in the chorus! On the street, on the roof, in the tub or on the stage, sing! Learn new songs, write new songs or ransack your memory, but sing! In the first light or in the gloaming, deep midnight or high noon, sing! Let's raise our voices like Clara, 'cause we all have something to say!
‣

Bio

Barbara Dane began to raise her strong voice regularly at demonstrations for racial equality and economic justice when she was just out of high school in Detroit in the 1940s, and she has continued singing to move people with her extraordinary voice for 75+ years. At factory gates, union halls, jazz clubs, coffee houses, arenas, huge protest gatherings, on to Cuba and around the world, Dane has never stopped fighting to make the world a better place.

"A true unsung hero of American music" with "a jazz musician's sense of rhythm, a blues singer's deep investment in the material, and a folk stylist's attention to authenticity" (The Boston Globe), Dane has been cited as an inspiration by artists such as Bob Dylan and Bonnie Raitt. Her rich history includes collaborations with greats like Louis Armstrong, Benny Carter, Earl "Fatha" Hines, Pete Seeger, Doc Watson, The Chambers Brothers, Memphis Slim and Willie Dixon, Brownie McGhee and Sonny Terry, and Lightnin' Hopkins.

Refusing to conform to the expectations of the music business and outspoken on issues race and social justice, she soon found many doors mysteriously closing in the Cold War climate of 1950s McCarthyism. Unstoppable, Barbara took her songs to the Freedom Schools of rural Mississippi and right up to the gates of military bases from Japan to Europe as well as all over the USA in opposition to the war in Vietnam. Sharing the platform with Pete Seeger, Joan Baez, Phil Ochs and Rev. Kirkpatrick, she sang at every big peace demonstration in Washington D.C. In l966, Barbara Dane became the first U.S. musician to tour post-revolutionary Cuba, symbolizing the friendship between our peoples. Her activist travels inspired Dane to found Paredon Records in 1970, producing nearly 50 LPs featuring the music of liberation movements then rocking the globe.

Outspoken and indomitable, Barbara Dane continues to sing out for social justice with wit, wisdom and swing. In recent years she issued two CDs, Throw It Away! recorded at age 89, and Hot Jazz, Cool Blues and Hard-Hitting Songs, a compilation of recordings going back over 60 years released by Smithsonian Folkways. She celebrated her 90th birthday with a series of sold out concerts at venues including UCLA's Royce Hall, San Francisco's SFJAZZ and Joe's Pub in NYC. She will be 94 this month (May 2021).