Etta Dixon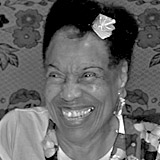 Etta Dixon was born in Brooklyn, New York. She began dancing in her mother's womb and enjoyed dancing as a child. In an age before television, she and her friends entertained themselves devising swing dance moves. As a young woman she started going to Harlem's Savoy Ballroom, (the only integrated ballroom in New York), eventually becoming a competitive dancer in exhibitions, competitions, and contests. The thrill of competition was revived when Lincoln Center's Midsummer Night Swing program began in 1988, and Dixon is still bringing home trophies.
Etta Dixon's quiet first career with DC 37 helped launch her in retirement to a second career in dancing and in health and wellness outreach. Dance is only part of Dixon's larger concern with health and wellness. She inspires and advises neighbors and clients of all ages about diet, exercise, relationships, and dealing with stress, and offers outreach programs through Brookdale Hospital and the Mount Ararat Center in Brooklyn. Earning a brown belt in Karate and a Bachelor of Arts both at the age of 75, Etta continues to inspire with her dance and her infectious enthusiasm.
The health of the environment is also a passion for Dixon, who was one of the first in her neighborhood to install solar panels on her roof, and continues to encourage conservation in her community.
Traveling throughout the East Coast to reach out to seniors and the elderly, Dixon has appeared in several documentaries and public television programs. Known as the Mature Magic when she performs with her dance partner Bernard Dove, she helped introduce a new generation of dancers to the swing style of jazz music and dance. Today the most well-known of these dances is the Lindy Hop, which originated in Harlem in the early 1930s. While the majority of swing dances began in African American communities as vernacular African American dances, some of the swing era dances Dixon performs, like the Balboa, developed outside of these communities.
Interview


Interview by Rachel Bernstein, camera and edit by Ruth Sergel
Back to the 2016 Awards