Debra E. Bernhardt: Activist, Archivist, Historian
May 9, 1953 - March 22, 2001
Debra E. Bernhardt was a labor historian dedicated to documenting the undocumented history of workers in New York. She saw the potential of Labor Arts to further that mission. Her life ended far too soon, leaving an extraordinary vision to be fulfilled. We dedicate this Labor Arts website to Debra, as one of the many ways that her work will be carried forward.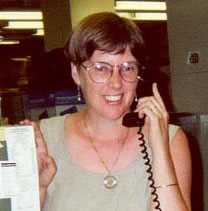 (Photograph by Jane Latour, 1995)
As head of the Robert F. Wagner Labor Archives at New York University Debra built an extensive collection of documents, photographs, oral histories and artifacts about working people. The collections are used by researchers from around the world, by scholars and activists alike. In 1998 Debra spearheaded a successful campaign to have the National Park Service declare Union Square Park a National Landmark. What is now recognized as the first Labor Day parade occurred on that site on September 5, 1882. Debra was also the guiding spirit behind a traveling photographic and oral history exhibition, "100 Years of Labor in New York City," which opened at City Hall in 1998. It subsequently made the rounds of union halls and other sites throughout the state. She is the co-author, with Rachel Bernstein, of the book Ordinary People, Extraordinary Lives: A Pictorial History of Working People in New York City, published by the NYU Press in 2000, and of the Labor Arts online exhibit of the same name.
See an obituary by Margalit Fox from the New York Times, a reflection by Daniel Walkowitz, and an interview with Debra by Janet Wells Greene in the Fall 2001 issue of the Radical History Review.
For more information about Debra's work contact LaborArts at info@LaborArts.org, or the Robert F. Wagner Labor Archives at (212) 998-2630.