Our good friend Henry Foner (March 23, 1919 - January 11, 2017) was an integral part of LaborArts since its founding in 2000. He will be missed by many. Foner was president of the Fur, Leather and Machine Workers Union for 27 years before retiring in 1988. He served as president of the Paul Robeson Foundation, on the editorial board of Jewish Currents magazine, on the board of the New York Labor History Association, and as a masterful master of ceremonies for many organizations on the left.

Student activist in the 1930s, organizer, labor leader, songwriter, trouble maker —

Henry contributed irreverent, unexpected songs and poems for every occasion for very close to a century. A selection can be found in this book – the table of contents is below, with links to audio recordings of Henry singing some of the songs; video of Henry singing a selectionof songs is here.

Enjoy more songs in the LaborArts exhibits Thursdays Til Nine, the musical Foner co-wrote with Norman Franklin for the Department Store Workers in 1947, and Play It Again, Sam, featuring songs from the left in the 1940s.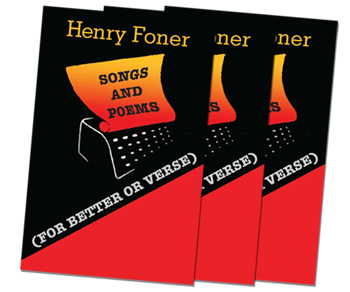 Buy the book @ $10 (includes mailing). Send your mailing address, phone number, and a check made out to LaborArts to: LaborArts / Rachel Bernstein, 7th floor, 25 Broadway, NY, NY 10004.