2014–2015 Contest Winners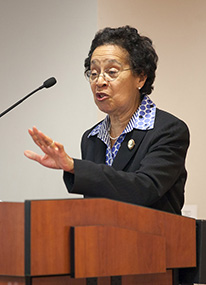 Evelyn Jones Rich congratulates the winners.
Evelyn Jones Rich's stories—about how her earliest jobs (delivering papers, sweeping kitchens and cleaning fish) influenced her long and illustrious career as an educator and an activist—inspired the young authors and artists who won prizes in the sixth year of this CUNY/LaborArts contest. Rich joined Brooklyn College Dean Rich Greenwald and contest sponsor Donald Rubin in congratulating the young artists—their work inspires us all. It displays imagination, thoughtfulness, and an ability to make links between individual lived experience and larger social issues.
---
Open to CUNY

undergraduates

, contest entries are judged according to originality, content and style. Student writers and artists both draw upon history, upon close observation of the world them, and upon a wealth of first hand experiences to link their work to the spirit of labor arts.
---

Judith Rubenstein with her paper sculpture.
---
Poetry winner Mariusz Zubrowski begins his prose poem this way:
Mama pays the bills by the skin of her teeth, the ones that are now rotting. She hides them from other people, especially those who can afford routine check-ups, or maybe are insured. Mama's never been sure of the path she's sailed; she tries not to get eaten alive by sharks—her boss the great white in a business suit and two rows of teeth.
Thomas J. Rachko's essay about the role of organized religion in the 1968 Memphis Sanitation Workers Strike addresses a topic rarely attended to by historians. Evidence is used creatively, with both photographs and oral histories building the argument. For instance: Former sanitation worker James Robinson epitomizes the hardships that sanitation workers faced, "You work out there you needed some kind of prayer or somethin'"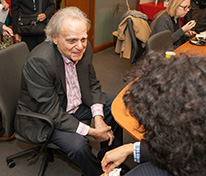 Donald Rubin with Visual Arts second place winner Jason Prabu Mas.
Read them all—you will be moved, surprised, impressed.
We sincerely hope that these young authors and artists continue on with their work—their voices demand to be heard.
---
Photographs of students and from awards ceremony are by David Rozenblyum.
---