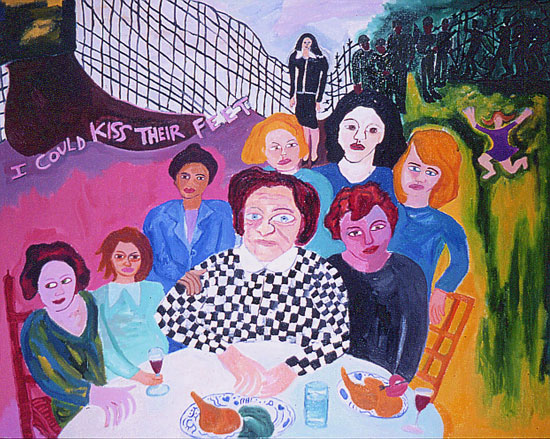 I Could Kiss Their Feet/ Serena's Story
Oil/linen
42" x 48"
From Balmazuvaros, Hungary to Borough Park, Brooklyn

Serena Stamler was liberated from the Mauthausen concentration camp in Germany in 1945 by an American battalion consisting primarily of black soldiers. It was the first time that Serena had seen a black person, having been raised in pre-war Hungary, a homogeneous European society. To Serena, they were heroes. "I could kiss their feet," she said. Serena was surprised, upon coming to America after the war, how badly blacks were treated here, after her liberation by the black soldiers from the concentration camp. Serena was a single mother of eight children when she arrived in Brooklyn in 1946. She supported herself as a kosher cook in hotels. Serena lived in Borough Park with her seventy-seven year old widowed daughter. Although she lived in this country for nearly half a century, Serena spoke no English, managing with her Hungarian and Yiddish in her community. She could be found on most Sundays in Amnon's Kosher Pizza shop, where her relatives in Brooklyn visited her at her regular table. Serena died in her sleep on August 18, 2003, at the age of 107.