On Equal Terms
Thirty-five years ago President Carter issued two executive orders, part of a broad campaign to support equality in the workplace and open career opportunities. The orders set goals for roughly 25% of skilled trades apprentice classes to be filled by women, and goals (that increased each year) for hiring women on federally funded construction jobs. Three decades later, the actual number is an order of magnitude smaller—roughly 2.5%. While other historically male occupations have seen dramatic changes, the percentage of women in skilled trades construction jobs has remained virtually unchanged since the early 1980s. On Equal Terms explores this discrepancy between policy goals and policy outcome.
On Equal Terms is an extraordinary mixed media installation by artist, poet and electrician Susan Eisenberg—on view in NYC during October 2013.
Poems
"Hanging In, Solo (So What's It Like To Be the Only Female on the Job?)"
"Remembering the Fire at Triangle Shirtwaist"
T-Shirts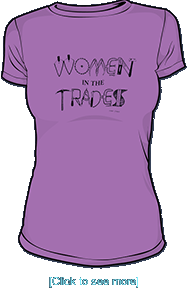 From the start, the tradeswomen's movement had an active culture. Female plumbers, electricians, carpenters, ironworkers, and truck drivers reflected on their experiences through poetry, film, photographs, books, a quarterly national magazine, music and parties. And, of course, T-shirts. These wonderful graphics give us a sense of the images and ideas—the labor art—circulating during the decades women have been organizing for the right to work at construction jobs.
Tags