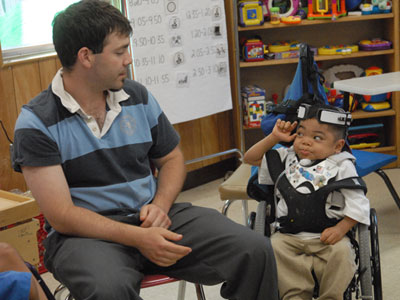 The teachers who work at the school on the premises of St. Mary's Hospital for Children in Bayside, Queens demonstrate their extraordinary dedication every day in both word and deed. The students are either recovering from the most traumatic and brutal brain injuries, or they are part of a specialized care program for children with diseases, congenital disorders and other conditions.
In a building attached to the hospital by a corridor, the teachers of PS 23 (which has eight schools at various institutions in Queens), go to enormous lengths to find a way to educate each child. Journalist Elie Spielberg describes what they do: "Helping a with-it kid recovering from cancer surgery and mastering sophisticated vocabulary words. Helping another rediscover speech. Figuring out how to communicate with a child who has no words at all. Teaching a girl who's bright and funny but can't raise her hand or a boy who doesn't know what a hand is."
Gary Schoichet photographed some of the teachers at work with these students in the summer of 2007, to illustrate the article written for the New York Teacher by Spielberg. We are grateful for the cooperation of both these perceptive social documentarians, and pleased to present a selection of Schoichet's photographs (some of which appeared with the original article and some which did not).