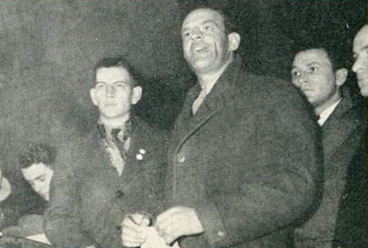 Photograph from Gottlieb, This is the NMU (1956), courtesy of Tamiment Library, New York University.
« Flash required »
Robert McElroy remembers.
View Transcript
Hide Transcript
Strike veteran Robert McElroy speaking at Cooper Union, Nov. 3, 1986 (on the 50th anniversary of the Fall Strike):
When the lights finally came on 10 minutes or so later, the hall had been transformed. All the rats had fled. The goons, the stooges, and the pie-cards had lost their game plan – caught unawares. And they had decided they'd better get the hell out. The hall was still packed – but only rank-and-filers were left. In came our rank-and-file leaders from outside – who'd been kept outside for all this time by the I.S.U. We realized at that point that the rank-and-file seamen were in control of the union.
Joe Curran, who had been the leading light in the SS California sit-down strike, and the bruising Spring Strike that followed, was barred by I.S.U. officials from attending the Cooper Union meeting.
At 10:30pm rank-and-file seamen took control of the Great Hall, and a defiant Curran took the stage and called for the strike vote Grange had been determined to avoid.
Seamen in the hall unanimously voted their support.
Curran and half a dozen rank-and-file leaders from the Spring Strike had formed the Seamen's Defense Committee when that strike fell apart. They knew there would be another strike, and they were determined to be prepared—armed with a strike fund and advance preparations to feed and house those on strike.
Once again Curran inspired a passionate group of rank-and-file seamen.
The 82-day "Fall Strike" had begun. It spread to many more ports than the Spring Strike, and, according to contemporary chroniclers, it cost the lives of as many as 28 seamen.