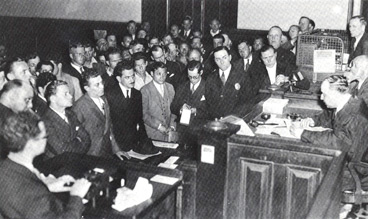 Photograph from Raskin, On a True Course (1967), courtesy of Tamiment Library, New York University.
Hundreds of strikers had their picket cards stamped "Honorably Arrested" in the course of the Fall Strike. Strike veteran Joe Stack explains:
…we had guys that went in jail—most of the guys went to Rikers Island, but some of them went in further than that. We had a couple that went to Sing Sing. They beat up finks and rolled the finks. They were charged with robbery. But that was the standard practice of the seamen, you never dumped a fink that you didn't roll.
Because the money went into the Soup Kitchen. That's where we got our money, most of it. And it was an understood thing—you rolled these here finks. You take their money—they've got our money. You didn't dump a fink if you didn't take his goddamned money and turn it over to the soup kitchen. Where else could they get any money?
And so consequently there were a few guys that went to jail. …The strike committee passed a resolution that anybody that went to jail for union activity must get stamped on his card: "Honorably Arrested for strike duty." We had a couple of guys that. Even when the strike was over and the union was formed, we had several people that were in jail for four or five years—in Sing Sing and other places. And we used to send them up a weekly allowance—some cigarettes and stuff like that—was passed by the strike committee and then when the union was formed the union took that over to see that these guys were provided for.