2013 Contest Winners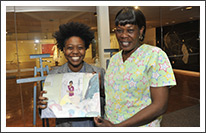 Visual Arts First Prize winner Jardley Jean-Louis and her mother hold Jardley's painting.
A toast to the twelve young authors and eight young artists who earned awards for their poetry, essays and art this year. Their work inspires us all. It displays imagination, thoughtfulness, and an ability to make links between individual lived experience and larger social issues.
---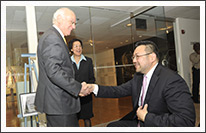 CUNY Chancellor Matthew Goldstein congratulates contest coordinator/Lehman Dean Terrence Cheng; M.C. Evelyn Jones Rich looks on.
The "Making Work Visible" contest has evolved a bit each year. The new addition in this, its fourth year, is the category of visual art. CUNY undergraduate student writers and artists both draw upon history, upon close observation of the city around them, and upon the wealth of first hand experiences they bring to their efforts.
---
The range is impressive. Jardley Jean-Louis' painting of a Certified Nurse Aide takes you inside, to the lives of patient and aide. Jessica Guerra analyzes the process of gentrification in Williamsburg from an economist's and a sociologist's perspective—and intersperses vivid stories from a family who has lived through it. "Bubby's Blood" is the story of Ariella Michal Medows' grandmother—whose past, and spirit, are somehow in Ariella's blood. Finally—two lines from Jess Williard's poem:
Let me state this as simply as possible:
There was a girl whose hands cupped to her hips when she walked
like they were holding liquid secrets.
…
But what I haven't forgotten about is how,
in the dim light of motel room lamps,
what was interesting to her were the calluses on my hands.
Read them all—you will be moved, surprised, impressed.
We sincerely hope that these young authors and artists continue on with their work—their voices demand to be heard.
---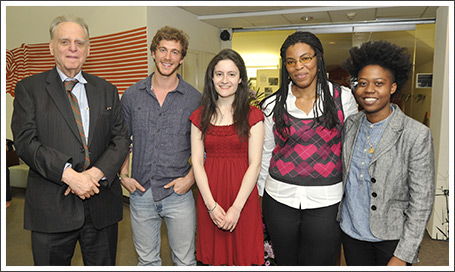 Contest sponsor Donald Rubin with some of the 2013 winners.
Photographs of students and from awards ceremony are by Gary Schoichet.
---