2016–2017 Contest Winners
The student winners at the awards ceremony in April 2017.
---
The title of this contest—"Making Work Visible"—captures the essence of the work done by the young authors and artists who won prizes in the seventh year of this CUNY/LaborArts contest. The poems, fiction, non-fiction and visual art display imagination, thoughtfulness, and an ability to make links between individual lived experience and larger social issues.
---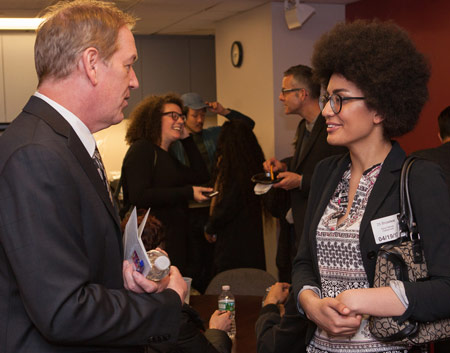 Stuart MacLelland speaks with Second Place Poetry winner Nina DalleyHood at the April 2017 event.
Open to all CUNY undergraduates, contest entries are judged according to originality, content and style. Student writers and artists both draw upon history, upon close observation of the world around them, and upon a wealth of first hand experiences to link their work to the spirit of labor arts. Every year professors judging the contest reflect on the value of providing opportunities for the students to seriously interrogate their own life experiences and that of those around them.
---
From Jenny Lai's poem "Nail Salon":
She nods when you talk to her about your day
even though she doesn't understand your language
because your money is more important than her voice.
"My father's hands are wrought iron." The first sentence of Renée Jarvis' very personal story "Hands and Feat" gives us a visual image drawing us directly into her tale.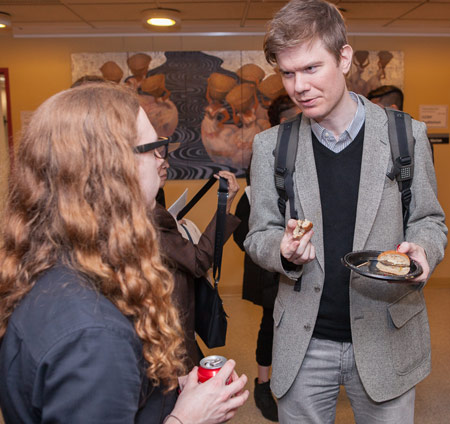 Fiction winner Kyle Williams and Professor Joseph Moore (visual arts judge), chat at the April 2017 event.
Each work will affect you in some way—you'll learn something, be inspired, be surprised.
We sincerely hope that these young authors and artists continue on with their work—their voices demand to be heard.
Photographs of students and from awards ceremony ©Brooklyn College, David Rozenblyum
---