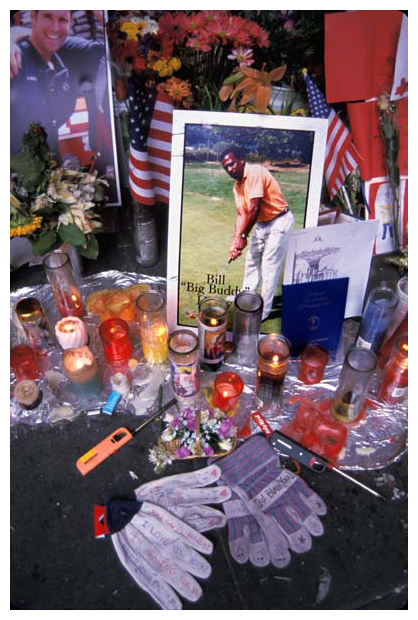 Work gloves, candles, cards and flowers on a shrine in front of the firehouse on West 31st Street. Twenty-one firefighters were lost from this firehouse and the three others that make up Battalion 7. Personal shrines mourning fallen colleagues were soon shared with the public, who stopped by to mourn and to pay tribute. The shrines often incorporate photographs of fallen firefighters; the shot of the African American firefighter shown golfing is one. Note the lighting devices for the candles, the foil to catch the candle wax, and the unused work gloves, possibly left over from the overwhelming response to calls for donations of supplies to be used by rescue workers.
Photograph taken October 1, 2001.
Photographer Martha Cooper:
As police precincts and firehouses became galleries, the cops, and especially the firefighters, were the curators of their own poignant exhibitions. At each firehouse, the firemen selected and carefully displayed the donated drawings, writings, cards and offerings, arranging them in elaborate and ever changing installations. They added new work as it arrived replacing pieces damaged by rain. They posted family photos of lost comrades among the floral displays, pruning withered blossoms, sweeping fallen leaves, and taking care to keep the flames of the many votive candles burning.