An extraordinarily detailed and colorful banner created in 1835 for the Journeyman House Carpenters' Association of Philadelphia, Pennsylvania, important not only to the Carpenter's union but also to the entire American labor movement.
One side of the banner depicts journeymen and apprentice carpenters at work sawing, using a plane, and sweeping up, their tools hanging on the wall. An apprentice is tapping a mechanic on the shoulder and pointing to a neighboring steeple clock that shows the time to be six o'clock. In the foreground is inscribed: "Six to Six." Just as the carpenters of later decades fought for the eight-hour day, the generation of the 1830s had battled for the ten-hour workday with two hours allowed for meals. Forced to work thirteen or more hours during summer, the "Six to Six" motto was the protest of carpenters and workers in many other trades against a sunup to sundown work day in the summer and a piece work system during the short daylight hours of the winter months. Painted underneath is a ribbon that reads "JOURNEYMAN HOUSE CARPENTERS ASSOCIATION INSTITd. JUNE, 1835"
On the reverse side of the banner is a female figure representing Columbia, a symbol of the United States, holding in her hands the nation's flag. Set in a pristine, pastoral landscape of water and mountains, she is flanked by three Native Americans, a male and two females, to whom she is pointing out the motto of the House Carpenters' Association: "UNION AND INTELLIGENCE—THE PATH TO INDEPENDENCE." The theme is one of conciliation, and follows the pattern of many labor banners in England and later in the US, that stress unity and underplay conflict.
This back side of the banner had long been out of view as the banner sat safely framed behind glass in the union's headquarters. When the University of Maryland received the banner in 1999, this side was revealed for the first time in over a century.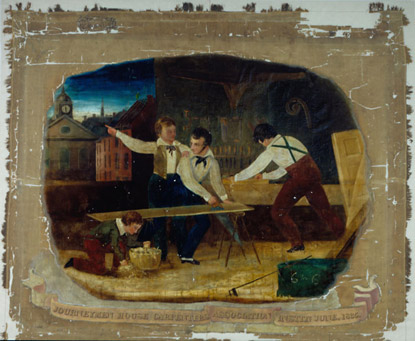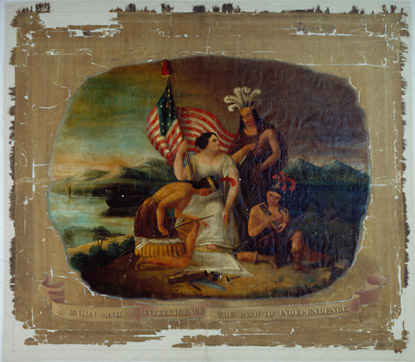 J. A. Van Schoick (Artist)
oil painting on silk
55″ x 65″
University of Maryland Libraries
---