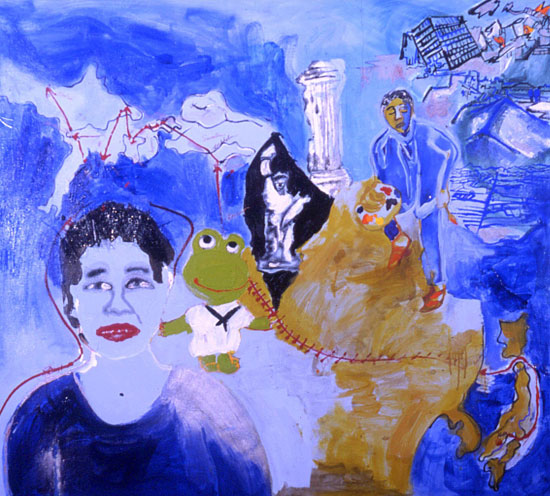 Misa's Story
Acrylic/linen
42" x 44"
From Kobe, Japan to Bed-Stuy, Brooklyn

"I traveled one night by taxi, and then three hours on foot, to reach my parent's house after the earthquake in Kobe, Japan, in 1995. Thankfully, they were alive. My Fragile Art series depict photographs of plaster Statues of Liberty after being kicked and stepped on, as a symbolic representation of myself. While living in this international city of New York, a part of me has been changing because of the influences from the variety of cultures and people. I related the transformation of myself to the transfiguration of the plaster statues."

When Misa first came to New York, after the earthquake, she worked as a tour guide for Japanese tourists visiting the Metropolitan Museum of Art. While there, she became fascinated with the fragmented statures of ancient art, which led to Misa's Fragile Art series. Misa wonders, "Will our descendants see the Lady Liberty as we see the Venus de Milo?" In 1982, Misa and her mother traveled from Kobe to Europe, by way of the Siberian railroad to meet Misa's father, Kazu Namekawa, also an artist, who was living in Perugia, Italy at the time. Misa Namekawa is an artist living in Bedford-Stuyvesant, Brooklyn.