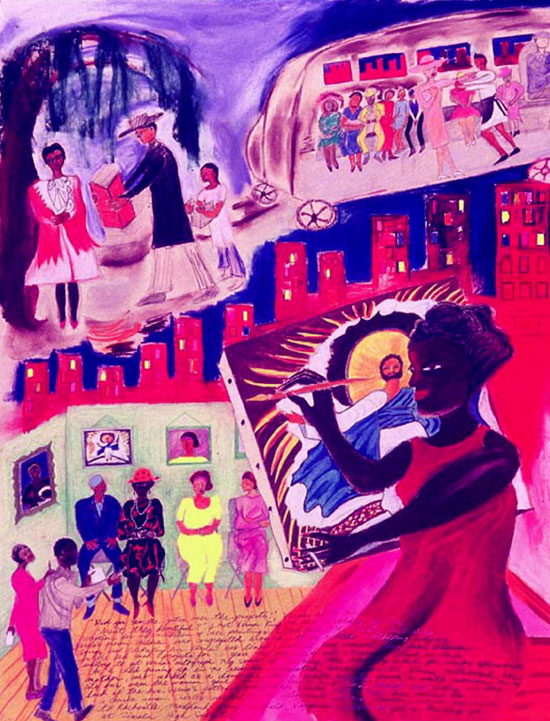 Verna's Story
Pastel
30" x 22"
From Washington DC to Red Hook, Brooklyn

"Did you see the gates over the projects?" Verna asked me."Aren't they beautiful?" I met Verna King on her seventy-second birthday, at the reception for an exhibition of her paintings at the Independence Community Bank in Red Hook, Brooklyn. The party included Verna's grown children, who congregated around their artist mother, singing songs, and celebrating her. Verna has lived in the Red Hook projects for forty years, supporting herself as an accountant, doing her art work, and raising her four children. My adolescent art students stood in line, waiting to get Verna's autograph. They spoke of Ms. King, the celebrity artist, for weeks afterwards.

As a child growing up in the recently integrated Washington DC, Verna witnessed her mother, who worked as a domestic for a white family, push a white woman on a city bus, when the woman gave Verna's mother a hard time about not sitting in the back of the bus. Verna's paternal grandfather, Charles Walter Dyer, was married to a Cherokee woman. Charles worked as an itinerant reading teacher while en route to Rockville, Maryland, from Crestfield, Virginia, where he got a teaching job at Lincoln High School. Recently, one of Verna's sons died. She is trying to get back to her art while dealing with her grief.