2013–2014 Contest Winners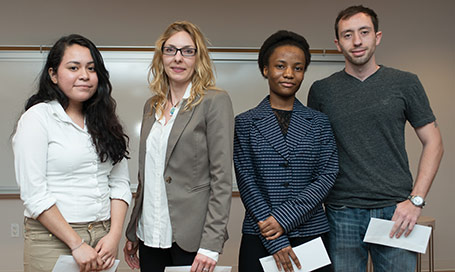 Poetry prizewinners Kendy Rodriguez, Alicia M. Adams, Marckincia Jean, and Alexander Radison.
---
"'Making Work Visible'—in a way that's what I've been doing throughout my career," investigative journalist Tom Robbins told student authors and artists who won prizes in the fifth year of this CUNY/LaborArts contest. Robbins joined Brooklyn College President Karen Gould and contest sponsor Donald Rubin in congratulating the young artists – their work inspires us all. It displays imagination, thoughtfulness, and an ability to make links between individual lived experience and larger social issues.
---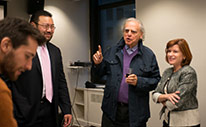 Terrence Cheng, Donald Rubin and Karen Gould at the reception.
Open to CUNY

undergraduates

, contest entries are judged according to originality, content and style. Student writers and artists both draw upon history, upon close observation of the world them, and upon a wealth of first hand experiences to link their work to the spirit of labor arts.
---
Poetry winner Alexander Radison begins his poem this way:
The time on her alarm clock is set half an hour fast
to soften the shock of early morning—
as if the thought of waking up at 5 a.m. instead of 4:30
might somehow make the workday go by quicker.
Elizabeth Mahony's essay about queer labor discussed the increasing number of jobs in sectors whichrequire both frequent interfacing with the general public and pressure to embody a company's "brand". Businesses who wish to differentiate themselves from exploding competition may increasingly put the weight of "branding" and providing a specific experience for their clients onto their employees. The unwaged and normalized nature of additional emotional, sexual, and appearance-based labor makes this a low-cost option for companies in a shareholder-beholden landscape. Businesses can skimp on branding and expand the ways in which workers are disciplined.
That Sean Blair took to heart the contest requirement to "think visually," is evident in the first sentences of his narrative: The pool of steel, with its oranges and reds, all swirling slowly, glowing, and blazing—it seemed as if Carnegie had bought the Sun and employed us every day to pour a little bit of it into the converters. But there was a sunspot now on the great surface of molten pig iron. We looked down into the vat from the catwalk and it seemed to be descending farther away from me. The black spot, which many of us had stopped to look at, was undoubtedly human…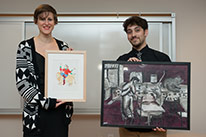 Jonathan Batista and Samantha Sundius display their art.
Visual Art winner Jonathan Batista comments movingly about
his painting
:
As a waiter and a lower class Hispanic male living in the projects I have carried a perceived notion from those around me of being uneducated, a thief and financially dependent on others. Being sensitive to the actions that society made towards me caused me to develop insecurities of where I am in society's social concept. With art I learned to realize my insecurities as an irrational fear.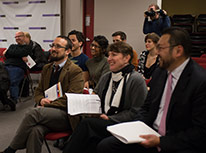 Lucas Rubin, Dean Maria Conelli, and Terrence Cheng at the ceremony.
Read them all—you will be moved, surprised, impressed.
We sincerely hope that these young authors and artists continue on with their work—their voices demand to be heard.
---
Photographs of students and from awards ceremony are by Julienne Schaer.
---