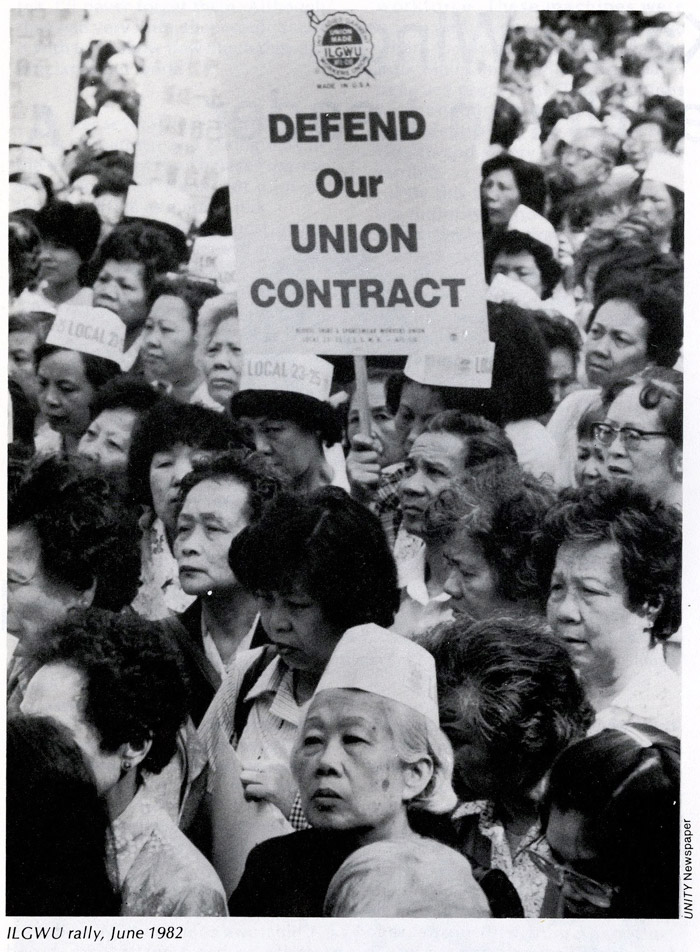 Our new online exhibit, We Are One, is titled for the rallying cry during the brief but successful strike in early summer 1982, when an estimated 20,000 members of Local 23-25 of the ILGWU—most of them Chinese immigrant women—walked off the job in protest.
This five minute video by Betty Yu is a great introduction to the story.
A series of events marking the 40th anniversary of the strike is in the works.
Please join us when you can, and check back for additional events this summer.
40th Anniversary Events
May 2 Chinatown Heroes: Virtual book Launch and 1982 Strike Retrospective. Writer and scholar Winifred Chin in discussion with veterans of the strike, including Katie Quan, Muzaffar Chisti and Edgar Romney; and retired ILGWU leader and translator of the book May Chen in discussion with with Silvia Chan and Mei Lum. Event recording available soon.
May 12: Virtual Clara Lemlich Awards for Social Activism featuring strike veteran Edgar Romney, and saluting previous honorees who helped organize the strike. Event recording available here.
May 21 at noon: Garment Workers Uprising in Chinatown Walking Tour with ILGWU historian Dan Katz. $25. Register here.
June 9 at 6:30pm: Lower East Side Tenement Museum workshop about the strike.
June 25, 2–4pm: WE ARE ONE – 40th Anniversary Celebration of the 1982 Chinatown Garment Workers Rallies (ILGWU, Local 23-25)
我們一条心:1982 年華埠車衣業工人大示威40週年紀念
(國際女服車衣工會23-25分會)
This commemoration event in Columbus Park, 67 Mulberry Street, New York Chinatown (the location of the 1982 rallies) will include music, dance, children's activities and veterans speaking about the strike. Organized by Local 23-25 Workers United, the WOW Project, LaborArts, City Lore, the NYC Central Labor Council, and the Asian Pacific American Labor Alliance.
July (date to be announced): Garment workers Reunion and film showing.