2023 Honoree
Rita Margules
Clara Lemlich's daughter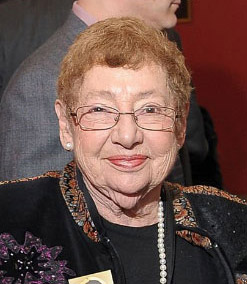 Clara Lemlich's daughter Rita Margules was a Lemlich honoree in the inaugural year of 2011, and an avid and engaged supporter ever since. Her presence in the room at the Awards ceremony each year gave the audience a thrill of connection to the spirit of Clara Lemich. She helped out the rest of the year too, contributing ideas and encouragement.
In November 2022, Rita called to say she had a lifelong friend who deserved a Lemlich Award—but she didn't realize it until attending her memorial service. She asked if we could make an exception and grant an award posthumously? The answer was yes, and that friend Anita Weisbord is an honoree this year.
Rita had planned to speak about Anita at the spring Awards ceremony, but alas Rita Margules died in March of this year. She will be missed. As a child, she recalled her parents saying "eat your food—miners' children are starving". She kept that sense of responsibility for the greater good throughout her 98 years, including her decades working with a housing program for seniors of limited income sponsored by B'nai B'rith and HUD. A video will be available soon.