2022 Contest
Making Work Visible
City University of New York / Labor Arts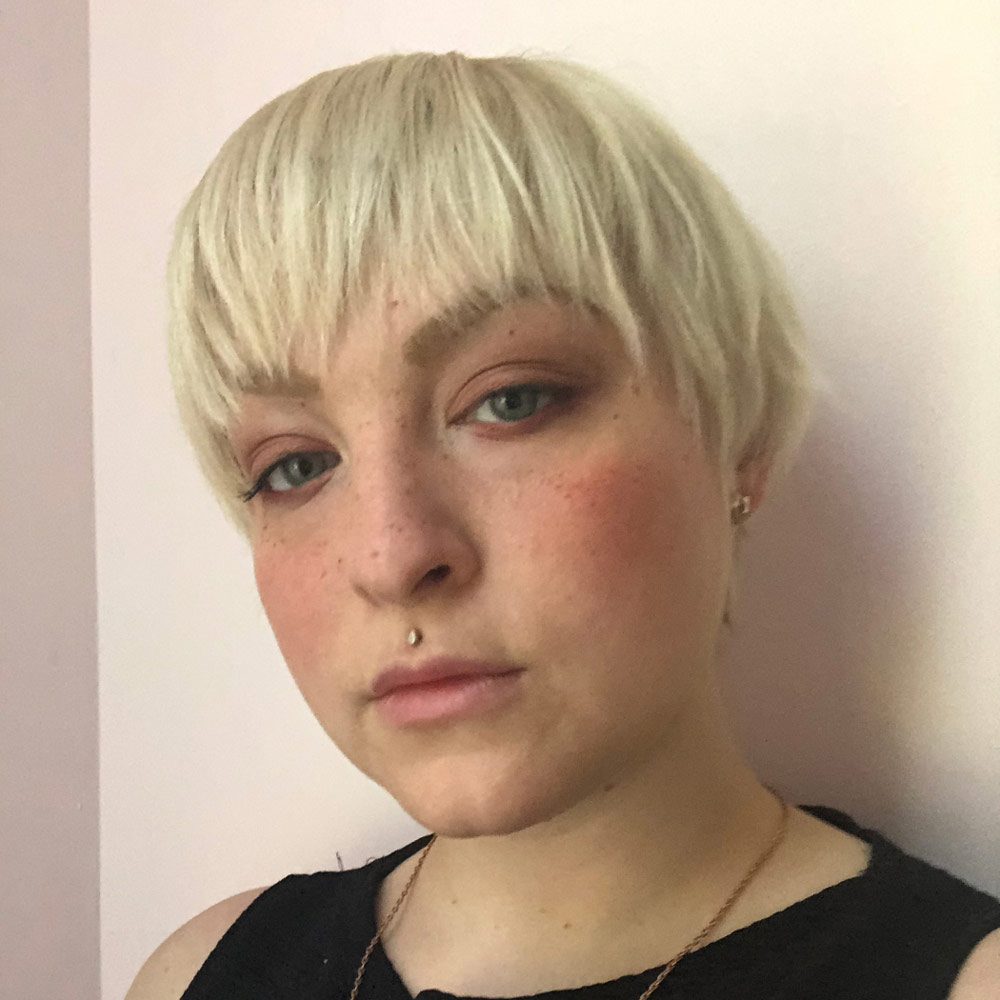 Non-Fiction 

First Place
Samantha Key
Studio Arts, Hunter College
It's a Calling
When people come to visit the hairstylist, they think they're getting a bang trim, or a haircut, some highlights, a root-touch up. Most of the time what they're actually getting is a therapy session. They may think they're changing the color of their hair, but they're really there to change the way they feel about themselves. People say they want to look beautiful, but they also want to feel strong, secure, more confident, more centered in their gender. They want to nail that interview, have an amazing first date, improve their marriage, feel less empty. When hairstylists pick up our shears, we also pick up all of these heavy things. Through this work, I have been a hairstylist, and I have also been a grief counselor, a social media strategist, a chemist, a painter, a gossip columnist, a receptionist, a personal assistant, a punching bag and a friend. I have been behind the runway, behind the chair, behind the camera, I have been there for weddings, photoshoots, commercials, break-ups, pregnancies, graduations, school dances, and I've done it all on my feet, smiling, being watched in a mirror.
Legendary stylist Vivienne Mackinder made a documentary in 2005 called "I'm Not Just a Hairdresser". For veterans of the industry, this is a mantra we understand on a visceral level. Though we may intimately know what a day of labor requires of us, we often hear about how our job looks "fun". People may think we "play" with hair all day. People still ask me if I had to go to school to do this (Yes, I did. No, it was not cheap.) Those who come to visit us in the salon hear chipper voices, see smiling faces, and feel welcomed, loved, cared for. After all, their self- care is our business.
What they don't see is the daily, weekly, monthly, yearly, lifetime maintenance this job requires of us to keep our bodies fit and pain-free enough to do this work. Most hairstylists I know suffer from back, neck, and shoulder pain. We frequent physical therapy clinics, massage parlors, and acupuncture centers and we spend good money to get relief (most hairstylists don't get health insurance through work). Many of us go to therapy or self-medicate or both. We love that you trust us, but you may not be the only person sharing heavy thoughts or feelings with us in a single day. I have held my clients through the death of loved ones, cheating spouses, lost pregnancies, breakups, sexual assaults, depression diagnoses, gender transitions, eating disorders, all of it. Keep in mind, I am also a person who has experienced some of these things myself, sometimes at the same time as my client, and always at the same as I am doing highly technical work on their hair.
When contemplating the weight of this work, especially when trying to give outsiders a peak into this industry, I often will ask them, "When was the last time you made a mistake at work?" Most can jokingly reply with a vague "all the time". As a hairstylist, I can tell you every mistake I have made in the last 2 weeks. As laborers, we are highly attuned to mistakes as we often are, consciously or not, expected by our clients to be perfect. How many times have you heard someone say a hairstylist "ruined" their hair? The advent of things like Google Reviews, Yelp! and other online sources have made marketing for hairstylists more seamless than ever – but these sites also terrify us. Hair is a very sensitive thing for so many. But no one is error free at work. It's just that our errors appear so glaring, so personal, so intimately offensive to some people that we constantly fear the label of giving a "bad haircut" or even worse, a "bad dye job". Many a stylist I have worked with has wept in the back room of the salon, sincerely embarrassed and sorry that they offended a picky client by cutting their bangs a 1/2 inch too short.
It's not all bad. Hairstylists have a lot to be happy about. We benefit from a certain casualness in our workplace; we can generally look and dress how we'd like. Tattoos, piercings, bizarre outfits, hair of every color of the rainbow is not only welcomed but encouraged in our ranks. Our coworkers (when they're not divas) tend to be empathetic, creative, and charismatic people. Many work relationships I've made, both with fellow stylists and clients, have turned into deep friendships and have sustained me when times get tough.
And the times have been tough. Because what hairstylists generally don't benefit from, is social security, health insurance, 401(k)s, dental or vision care, steady (predictable) paychecks, sick or parental leave. Many of us are self-employed and operate within the thinnest margins for profit, and we have large overheads. If your highlights seem expensive, ask yourself how much you think a container of bleach costs (around $28-$38, depending on the size and brand). Tubes of color and toners can cost anywhere from $6-$18. Most color lines have upwards of 30 shades, and we try to keep them in stock at all times. It can often cost a salon or stylist thousands of dollars to obtain work materials alone, not to mention the rent and utilities of the salon space itself. We pay for marketing, styling products, hot tools. It costs money to keep our licenses current. Those of us who stick with it love this job because we have to. It is back breaking, nail biting, impossible work otherwise. It's a calling.
And we do love it. I love hearing about my clients' lives. Recently, I can think of a few people who have shared things with me that I will never forget. Over the course Spring and Summer of 2022, I had a client who shared with me each stage of her adoption of her daughter. I heard the story from start to finish, and I get updates each time she comes in for an appointment. It's amazing. And I cannot think of a better feeling in the world than hearing my trans and non- binary clients tell me they feel like themselves after a gender-affirming haircut.
But there are hard stories too. I am still haunted by the woman who, having seen me three or four times for services, told me on our fifth visit that she had moved to New York because her boyfriend had died tragically in front of her in her previous city. This woman was extremely beautiful and smart, and I had spent each of our previous appointments secretly jealous of what I assumed to be her "perfect life". I could not have been more wrong.
I have clients who have given me gifts during my hardest times, generous tips for Christmas, bought me a bottle of champagne when I was admitted to Hunter. My clients have invited me to their birthdays, have recommended me doctors and restaurants, have gotten services they don't really need just to help me make a buck. I've traded hair services for tattoos, I've even been asked on a few dates at work. I have all these good things to say for my industry, but I still wish people could see beyond their own reflection in my mirror.
During the pandemic, hairstylists could not work from home. Some of us may have wanted to, desperate for some extra funds, but could not justify the risks to clients and ourselves. Those of us who were able to obtain unemployment were extremely lucky. When we did return, we came back to salons full of hand sanitizer, masks, face shields, and plastic partitions. We worked in close proximity to people, every day, and in fact had no options for remote work, yet we were not deemed essential workers when the vaccine was first released. All of us were extremely overwhelmed, scared, confused, but we had to be the soft landing place for every client. The pandemic did not stop the public's desire for self-care. And for many us, our own fell totally by the wayside.
In 2022, most hairstylists are finally recovering. We have learned to cut hair around a mask. We're largely vaccinated as a group. For those of us who lost our workspaces to closure during the pandemic, we may be working from our apartments or smaller studios. We are still here for you. We are still chipper, smiling, as effortless and error-less as possible, with a searing shoulder pain, a caffeine addiction, and a healthy fear of the next slow season. It's a myth our job is recession proof, though it may have been pandemic proof. We see you all day, from every angle, and want you to feel beautiful. But next time you're in the chair, maybe you can spare a moment to see us.

×
Swearing in ceremony
1982