2018–2019 Contest Winners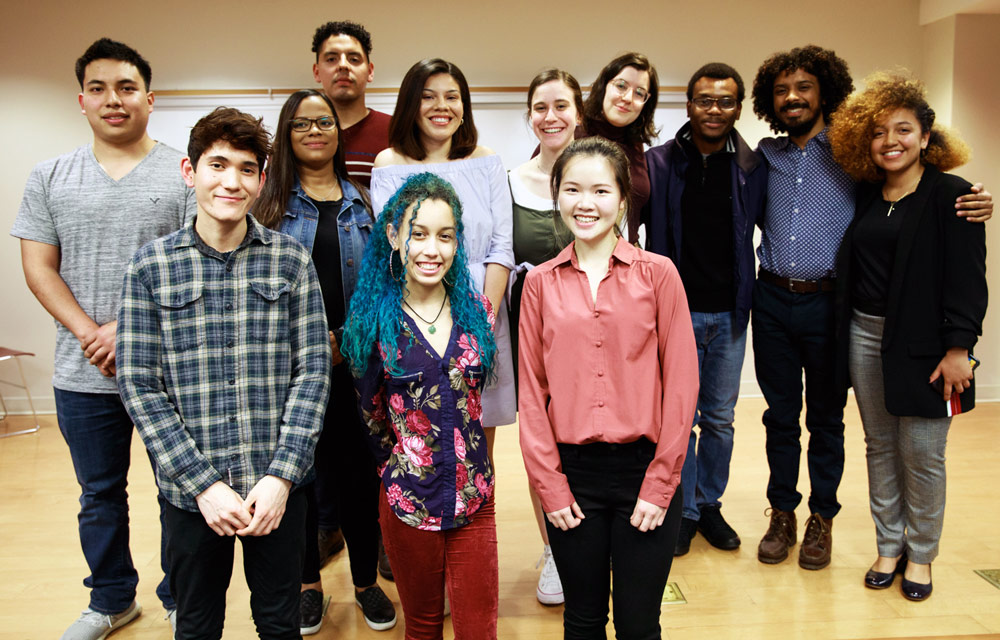 The student winners at the awards ceremony in 2019.
---
This group of extraordinary young authors and artists show us new perspectives on work with their creative and thoughtful essays, poetry and visual art. Many of them talk about work that is too often unseen, from the front lines of the new economy where precarious service jobs reign. Their efforts fulfill the goal of this CUNY/LaborArts contest—to expand student thinking about the history of work, and to provide opportunities to make links between individual lived experience and larger social issues.
---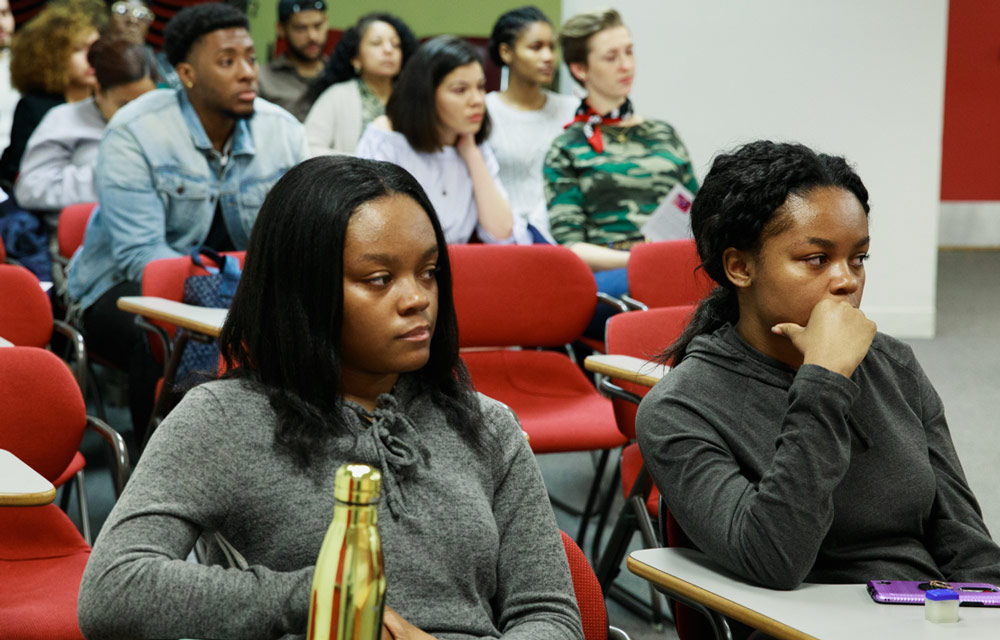 Members of the audience at the awards reception.
---
Here are two excerpts–we hope you read all the works in their entirety. The first is from Eva McGill's essay "America Runs on Dunkin': Analyzing Hierarchies and Customer-Employee Relations in the Coffee Shop Industry"—
5 AM—At this time of the day, we served nurses (who often work early morning shifts or overnight shifts), construction workers, and folks who worked outside the confines of the formal economy. Not many other coffee shops open their doors at 5 AM. … Dunkin' Donuts' widespread accessibility and ability to accommodate is due to the workers at Dunkin' Donuts stores. These workers, not the owners or those working at Dunkin' Donuts' corporate office, wake up early, work long shifts for minimum wage, deal with impatient customers, prepare food and drinks, sacrifice their weekends, forfeit spending time with family, and work in a perpetual state of being understaffed and undervalued. Without these people, Dunkin' Donuts, one of the most popular coffee chains, would cease to function.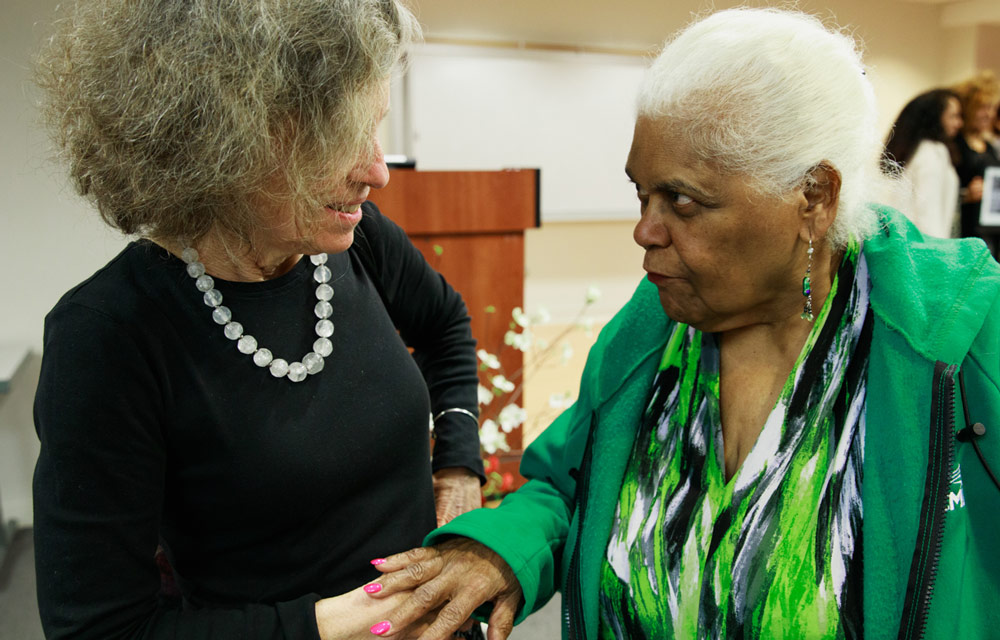 Rachel Bernstein chats with Julia Jorge.
---
From Christa Hill's short story "This is Not Consent"—
Last night I stood and looked in my drawer where I kept my underwear. I had comfy, sexy, casual, and even granny panties folded into neat squares. Some were laced, some were covered in glitter, silky, and some were basic and bland. I might've bought them because I liked the fabric or because the colors complimented my skin. Or maybe they looked comfortable.

Never did I ever stand in a shop to consider my new underwear and think, "But will I get myself raped in these though?"
We sincerely hope that these young authors and artists continue on with their work—their voices demand to be heard.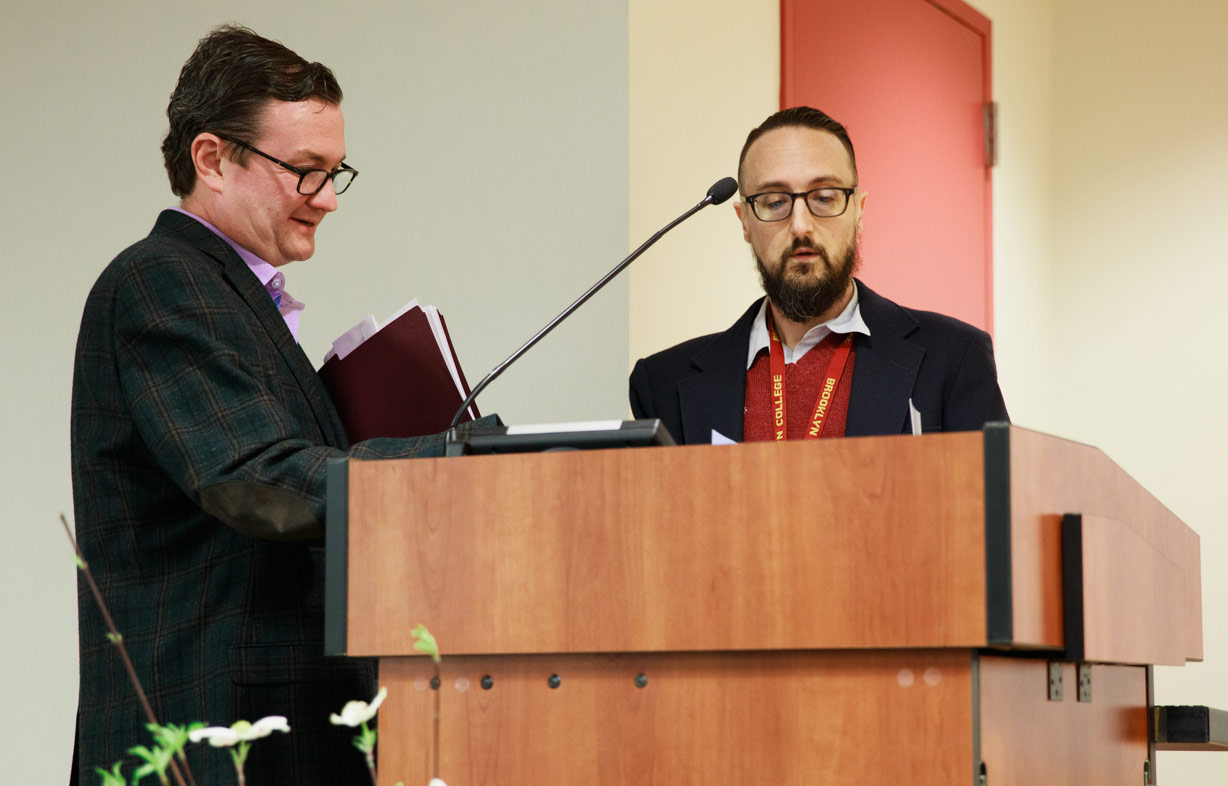 Patrick Kavanagh and Lucas Rubin.
---
Now in its ninth year, the contest is open to all CUNY undergraduates. Entries are judged according to originality, content and style. Student writers and artists draw upon history, their close observation of the world around them, and a wealth of first hand experiences to link their work to the spirit of labor arts. Every year professors judging the contest reflect on the value of providing opportunities for the students to seriously interrogate their own life experiences and that of those around them.
Photographs of students and from awards ceremony ©Brooklyn College, Marko Jokic
---