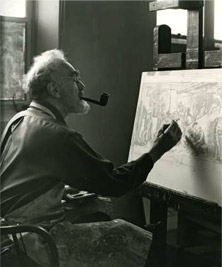 Boardman Robinson was a Canadian-American cartoonist, illustrator and artist. He was born in Nova Scotia and spent most of his childhood in Wales and Canada. In the early 1890's he enrolled in the Massachusetts College of Art in Boston. Later he would study at the Academie Colarossi and the Ecole des Beaux-Arts in Paris. He was influenced by the political cartoons of the French artist Honore Daumier.
In 1903 he married Sarah Senter Whitney and settled in Paris where he worked as an editor for Vogue. They returned to New York in 1904 where Boardman started drawing cartoons and theatre illustrations for The New York Morning Telegraph. He also worked for Harper's Weekly, Collier's and Scribner's Magazine. In 1910 he began doing editorial cartoons for The New York Tribune. However, by 1914 his radical anti-militarist views started to conflict with the Tribune's positions so he quit the paper. He began contributing cartoons and art to THE MASSES.
In 1915 he traveled to Eastern Europe with journalist John Reed to report for The Metropolitan. They saw the effects of the war on Greece, Russia, Serbia, and Macedonia. Reed would later publish The War in Eastern Europe with Robinson's illustrations.
In 1915 Robinson and his wife bought a home at 66 Mt. Airy Road in Croton-on-Hudson.
He continued his contributions to THE MASSES and in 1918 was charged with having violated the Espionage Act of 1917 with other MASSES editors. They were acquitted in 1919 but the trial ended the publication THE MASSES. Boardman served as a contributing editor to the new publication The Liberator.
Afterward, he began to teach art at the Art Students League in Manhattan (1919–1930) and was named to head the Colorado Springs Fine Art Center.
Robinson was also a muralist having major commissions for art at Rockefeller Center, and the Department of Justice Building in Washington D. C. He was also a successful illustrator, having done the artwork for editions of Herman Melville's Moby Dick, Edgar Lee Masters' Spoon River Anthology, and Dostoyevsky's The Brothers Karamazov.
He died in 1952.