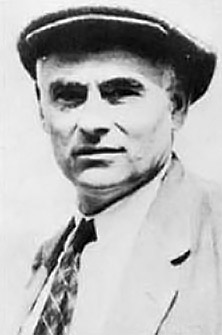 Robert "Bob" Minor was an accomplished political cartoonist, a radical journalist and a leading member of the American Communist Party.
He was born in San Antonio, Texas, in 1884. His family was not well to do and he was unable to start school until he was ten years old. To help support his family, he quit school at 14 to work as a Western Union messenger boy. He held odd jobs until 1904 when he was hired by the San Antonio Gazette as an assistant stereotypist. While there he developed his skill at cartooning.
He moved to St Louis and convinced Joseph Pulitzer, the editor of the St. Louis Post-Dispatch, to hire him as a cartoonist. While in St Louis he was converted to socialism by a physician treating him for his increasing deafness. He joined the Socialist Party of America in 1907. By 1910 he was lured to New York to be the chief cartoonist for the New York World. At the time he was the highest paid cartoonist in the nation. Minor was one of the first American cartoonists to employ grease crayon on paper.
Minor continued in the employ of the New York World until 1914, when the newspaper and Minor parted ways over his strong opposition to American participation in World War 1. In 1915 he was hired by the New York Call, a Socialist Party daily broadsheet. He was sent by them to cover the war in France and Italy. He was recalled in 1916 and was sent to Mexico to cover the American intervention there. During this time he was a regular contributor to THE MASSES. In 1918, the Call again sent him as a war correspondent to Europe and the Soviet Union, where he met Lenin and was converted to Communism.
Before returning to the United States in 1920 he was arrested in France for urging French railway workers to strike, and sent to a US military prison in Coblenz, Germany. He was released after several weeks and returned to America where he immediately joined the underground American Communist Party. He rose through the ranks and in 1921 was sent as a representative to the Executive Committee of the Communist International (ECCI).
In 1923 he was reintroduced to Lydia Gibson, an illustrator he had met while working for THE MASSES. They soon married and moved to a home at 79 Mt. Airy Road in Croton. Minor continued his involvement in the national and international Communist Party. In 1930 he was arrested for having helped stage a great series of demonstrations of the unemployed conducted around the United States under the guidance of the Communist Party. He was charged with encouraging a riot, tried, and convicted. He was sentenced to serve three years in a New York State penitentiary but after serving six months fell ill with appendicitis and was removed from the prison, spending the next two years trying to regain his health.
Bob Minor ran for elective office several times in his life but was never successful. He ran for Congress from Illinois in 1924 as a member of the Worker's Party. In 1928 he tried for the senate from New York State, Congress from New York in 1930 and 1940, Mayor of New York City in 1933 and governor of New York State in 1936—all as a Communist party member.
During the Spanish Civil War in 1936 Robert Minor traveled to Spain and helped organize the Abraham Lincoln Brigade, a unit of international volunteers who fought against General Franco and his Fascist allies.
For the remainder of his life he continued his involvement in the American Communist Party briefly serving as acting General Secretary of the party in 1945. He suffered a heart attack in 1948 and died in 1952.