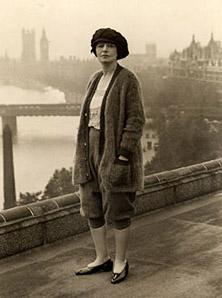 Rosalind Mae Guggenheim, better known by her nom de plume, Jane Burr, was born in Clebourne, Texas in December 1882. Her parents were Bertha Kaufman and Louis Guggenheim.
Jane studied at Washington University in St Louis for two years before taking jobs with two St. Louis newspapers—The St. Louis Star and The St. Louis Republic. During this period she was briefly married to Jack Punch. After her divorce she published her first book, Letters from a Dakota Divorcee in 1909. It was a fictionalized account of a woman seeking a divorce in the turn of the century divorce capital of America—Sioux Falls.
By 1910 Jane had moved to New York where she met and married her second husband, Horatio Gates Winslow who was the first copy editor of THE MASSES. Jane, a truly liberated woman for the times, rented an office on Nassau Street in Manhattan and supported herself writing poetry and articles on marriage, women's rights, birth control, modern dress and the changing sexual attitudes of the day.
She and her husband were both part of the Greenwich Village group of artists, writers and radicals who contributed written material to the new magazine called THE MASSES.
From 1914 until 1917 Jane pursued a career in the theatre appearing on stage in "The Salamander," "Keeping Up Appearances," and "Differences in Gods."
In 1917 she purchased the Post Road Inn (located on the property across the street from the Holy Name of Mary Church) in Croton-on-Hudson. She renamed the inn the Drowsy Saint and advertised for boarders in the pages of the New York Times. While a local innkeeper she hosted and facilitated Floyd Dell's marriage to G. Marie Gage in the winter of 1918.
Jane Burr traveled across the world in 1922 writing articles for the United Press on the condition of women in the lands she visited. While in London she created a sensation by appearing in public in her famous "knickerbockers."
In 1925 she and Horatio Winslow were divorced. She was living in Croton in a home called "Four Acres" and continued her writing career publishing The Queen is Dead, marble and Mud, Fourteen Radio Plays, and other works during this period.
Jane moved to Woodstock, New York, in the early 1940's where she opened an inn for writers and sold antiques from her barn. She died in 1958.