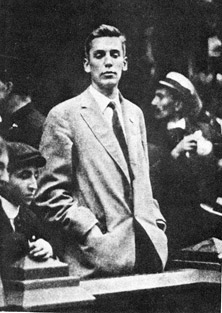 Max Eastman, the editor of THE MASSES, was born in Canandaigua, New York in 1883. His parents were both Congregationalist ministers.
He graduated from Williams College in 1905 and from 1907 through 1911 he completed work towards a Doctor of Philosophy at Columbia University under John Dewey.
Eastman and his older sister Crystal settled in New York's Greenwich Village and both became active in the movement for women's suffrage. During this period Eastman founded the Men's League for Women's Suffrage, and also established a reputation as an outstanding journalist.
In 1912 Eastman was asked to serve as the editor of THE MASSES, a magazine that combined socialist philosophy and the arts. The invitation was signed by John Sloan, Art Young, Alice Beach Winter, Maurice Becker, Louis Untermeyer, Mary Heaton Verse and other members of its Editorial Board. The job came without a salary! After a visit to the offices of the periodical he signed on as its editor. In Eastman's hands the magazine was transformed into a lusty and uninhibited publication that broke new ground. None of its contributors were ever paid but he was still able to attract art and articles from the likes of Carl Sandberg, Amy Lowell, George Bellows, and Upton Sinclair.
In 1916 Eastman purchased his home at 70 Mt. Airy Road in Croton. He lived there until 1945.
So fervently did THE MASSES campaign against the draft and U.S. involvement in World War I that it was banned from the mails, and its principals indicted, and charged with violating the Espionage Act. Under this act, passed in 1917, it was an offence to publish material that hurt the war effort. After two trials the defendants were acquitted but THE MASSES was forced to cease publication.
In 1918 Eastman, Floyd Dell, Art Young and his sister Crystal Eastman joined together and started another radical journal entitled The Liberator. In 1922 it was taken over by Robert Minor and the Communist Party and renamed the Worker's Monthly.
In 1923 Eastman embarked on a fact finding tour of the Soviet Union. He stayed for more than a year and a half. While there he made friends with Leon Trotsky and later translated his works into English. He also met and married his second wife Eliena Krylenko, sister of Lenin's Minister of Justice Nicolai Krylenko.
During the 1930's and 1940's he published several books and also wrote critiques of contemporary literature. By the end of the Great Depression Eastman had begun to abandon his Socialist beliefs and in 1941 he was hired as a roving editor for Reader's Digest, a position he held until his death in 1969. In 1955 he became one of the original contributing editors of the conservative National Review.
Throughout his life Eastman published more than two dozen books including poetry, novels, biographies, literary criticism, history and current events.
He died in his summer home in Bridgetown, Barbados in 1969.